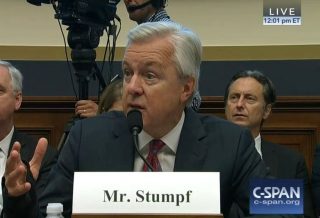 On Thursday, Wells Fargo CEO John Stumpf testified before the House Financial Services Committee to answer questions about millions of bank accounts that employees allegedly opened without customers' consent or knowledge. And, boy, did a number of representatives grill Stumpf and called him out for his bank's practices.
Rep. Mick Mulvaney of South Carolina said, "You can learn a lot about an organization by looking at their leader," and that in his experience with Wells Fargo, "Y'all were rotten." Rep. Ann Wagner of Missouri scolded Stumpf for Wells Fargo's practices, saying "this is wrong, this is immoral, and it may even be criminal."
But that was nothing compared to the verbal beatdown that New York's Rep. Gregory Meeks delivered to Stumpf. Watch below:
"Something is going wrong at this bank, and you are the head of it!" Meeks shouted, while going into how much senior management was making while allegedly defrauding their customers. Stumpf had said he was sorry for what took place, and Meeks was having none of it, asking if Stumpf would be so understanding if someone robbed one of his branches, only to say he's sorry.
Meeks made it clear that he isn't against banks in general. "I believe in financial institutions," Meeks said. "I believe that they make this country better. Until they rip us off."
[Screengrab via C-SPAN]
Have a tip we should know? [email protected]