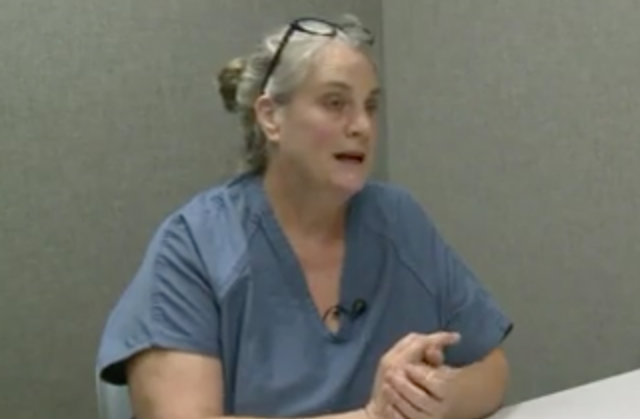 Virginia woman Daphne Page said she got a $1 alarm clock from a yard sale for her daughter's birthday. Thing is, it resembled a stick of dynamite.
"I picked it up and thought, 'Haha, this is funny.'" she told WTVR in a interview at Henrico County Jail. "'My daughter's birthday is coming up. She might find this amusing.'"
Someone clearly disagreed. On Friday, the 52-year-old Page left the gift in the backseat of her car while stepping into a Whole Foods Market in the town of Short Pump. Authorities were called after that alarm clock got mistaken for a real explosive.
Five hours: that's how long police reportedly shut down the parking lot while they investigated if the clock was really a bomb.
"I felt a certain sense of permission to be casual with this clock," Page said. "It was available on the market. If it's legal to sell, why shouldn't it be legal for me to have it?"
"We got there. We found the device, and it appeared to be real, which resulted in a decision to set up a perimeter," Henrico police Lieutenant B.T. Wilson told the Richmond Times-Dispatch. "Through the investigation, we linked the car and the device to Daphne Page."
Expect Page's plea to remain consistent as she fights the accusation. She was booked under the Virginia law that handles criminal use of explosives or similar items. The important part is the text that covers intentional hoaxes.
"Any person who constructs, uses, places, sends, or causes to be sent any hoax explosive device so as to intentionally cause another person to believe that such device is a bomb or explosive shall be guilty of a Class 6 felony," says the text for § 18.2-85.
Page insists it was all just a misunderstanding, and questioned the judgement of the person who first mistook the alarm clock as a real explosive.
"I feel stupid having spent a dollar on a stupid clock at a yard sale," she said. "I feel really dumb."
Page is being held without the chance to post bond, and is scheduled for a court hearing on Monday. If convicted she will face up to five years behind bars. This is Virginia, however, and when it comes to Class 6 felonies, the law allows a "jury or the court trying the case without a jury" the ability to only put offenders in jail for up to a year, and/or fine them for up to $2,500.
[Screengrab via WTVR]
Have a tip we should know? [email protected]