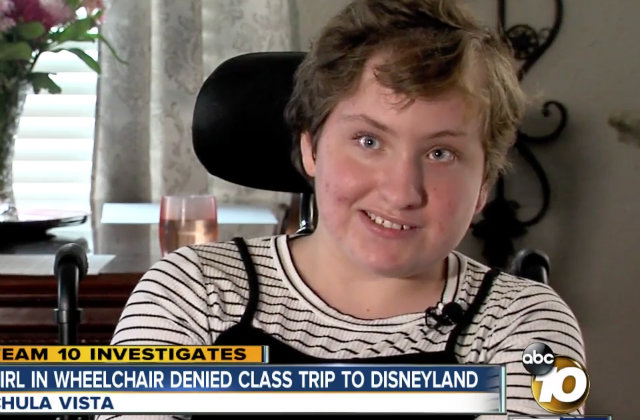 14-year-old Madison Wolanyk and her dad Eugene have geared up for a fight with Hilltop Middle School in Chula Vista, California. The girl, who was born with cerebral palsy, spina bifida and autism, claims she got denied a February class trip to Disneyland because the bus didn't accommodate her wheelchair. Daughter and father spoke all about it to 10News.
In a letter sent to the school, she said her adaptive PE coach initially asked her if she was going on the trip, and she answered by saying she wasn't sure. As told to the media outlet, the teacher later told her to hand out permission slips, but she didn't see hers.
"I'm handing out the permission slips, and I asked coach, 'Hey, coach, why is mine not in there?'" she claimed. "And he says, 'You're not going.' I'm not going because there's no ramp. And I'm like, 'There's no ramp?' And he's all, 'There's no ramp.'"
Mr. Wolanyk said he first brought his concerns to the vice principal.
"He just told me very matter-of-factly there's like 100 students going so we couldn't get the lift for the bus, so that's why Madison's not going," he said.
Insult to injury, the VP allegedly gave the Wolanyks two complimentary tickets to Disneyland–which expired that same day. It was too late to pack up, and drive two hours away to the theme park.
He filed a claim with the Sweetwater Union High School District, saying his daughter also missed the previous year's trip because of the lack of ramp. The complaint said this violated the Americans with Disabilities Act.
The family isn't budging from their claim.
"I am just a girl in a wheelchair," an adamant Madison told the outlet. "I am not a toy. I am not a lifeless toy."
We reached out to the Sweetwater Union High School District's communications and legal department for their take on the matter. They may not say much, though. Spokesman Manuel Rubio told 10News that they can't say much since it's a pending legal matter. He just gave this statement:
Transportation of students with special needs is a high priority for the Sweetwater Union High School District and one that we take significant pride in. It is our practice to transport students to and from school-related events and to accommodate each student's needs as appropriate. Currently, over 75 percent of our buses are equipped with wheelchair lifts. In addition, numerous routes are dedicated solely for transport of students with special needs and we have several staff members dedicated specifically to ensuring the timely, efficient and comfortable transport of students with special needs.
[Screengrab via 10News]
Update – April 28, 10:39 p.m.: The earlier version of this article incorrectly attributed research to KTNV. It is actually from 10News, so we have corrected the text.
Have a tip we should know? [email protected]