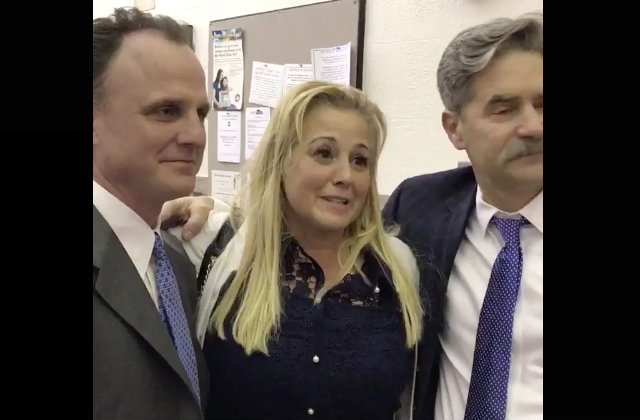 A bitter trial ended in victory on Thursday for Kelly Jones, ex-wife to Infowars founder Alex Jones. Now she has joint custody of their three children, and the right to have their primary residence with her instead of their dad, The Austin American-Statesman reports. That means the kids will live with their mother for the time being, and then they'll transition back into having more visitation with their father.
Mr. Jones had had primary custody of the children since the 2015 divorce. Meanwhile, this limited Ms. Jones to supervised visits.
The nine-day trial was a bit of a side-show. Most family issues like this evade media attention, but this one was different. His attorney said in a pre-trial hearing that he's "playing a character" on his radio show, and is "a performance artist." That's quite the thing to say about the boisterous, over-the top Mr. Jones, who says the United States government implemented the 9/11 attacks. However, Mr. Jones maintained that he is completely sincere in what he says, but that he likes to leave his work at work, away from his children.
But Ms. Jones's attorney Robert Hoffman said the Infowars host is like a "cult leader" who turned their kids against her, according to the Statesman. He claimed Mr. Jones was "emotionally, sexually, physically abusive" during their marriage, and used wealth to "escape detection."
Mr. Jones' attorney Randall Wilhite countered by calling Ms. Jones paranoid, believing that "every lawyer, judge and mental health professional in the case" was working against her: She was a woman guided by "inverted logic, inverted reality."
"They [the children] are doing well," Wilhite said in his closing argument. "They are thriving at their father's house. Should we rip them out of that and see how they would do at their mother's home?"
The jury didn't quite agree. While Ms. Jones has the legal advantage here, the children will maintain contact with both parents in the long-run.
We reached out to Mr. Jones for comment. For now, it seems like he's sticking to innuendo when it comes to talking about this case. This is what he said to a BuzzFeed reporter before Thursday's hearing:
If you're wondering if we'll hear from @RealAlexJones…here's what he told me and @JTiloveTX 14 hrs ago: https://t.co/yLIUZGCJ4s pic.twitter.com/rB2mF0ZDdj

— Charlie Warzel (@cwarzel) April 28, 2017
[Screengrab via Charle Warzel]
Have a tip we should know? [email protected]