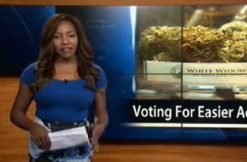 You might remember Charlo Greene, the KTVA reporter who, on-air, admitted to owning the cannabis club she was reporting on, then quit to support marijuana legalization.
"F—k, I quit," she said.
The unbleeped video Via The Alaska Dispatch News
That was back in 2014. Her post-journalism years have taken a dark turn. The Alaska attorney general's office had already been charging her with eight counts, but the sentence has gotten heavier. The Guardian reports that the AG's office tacked on six more charges, and Greene now faces 54 years behind bars. Reporter Sam Levin reached her on Thursday, and she said she wasn't aware of the new charges.
We've reached out to the Alaska attorney general's office for comment. We'll get update when we hear back.
Since February 2015, the state allows "personal-use" marijuana under certain restrictions (you have to be at least 21, you can't smoke on public property, etc). Authorities are also okay with cultivation. Growers can keep what they make, and share up to an ounce with other people. But authorities say undercover detectives were able to make illegal purchases at Green's "Alaska Cannabis Club" before regulations on selling had been completed.
The establishment was raided twice in 2015 after undercover detectives allegedly made purchases. Green told the outlet she was worried that one of her siblings, who were there, would be shot by authorities.
"I saw all my siblings … with these guns that my tax dollars paid for pointed at them for what was now legal," she said.
Court documents obtained by The Guardian stated that she wasn't involved in the purchases, but she's the only person being charged since the club is under her name.
She has pleaded not guilty to charges. A trial is pending.
[Screengrab via KTVA]
–
Follow Alberto Luperon on Twitter (@Alberto Luperon)
Have a tip we should know? [email protected]