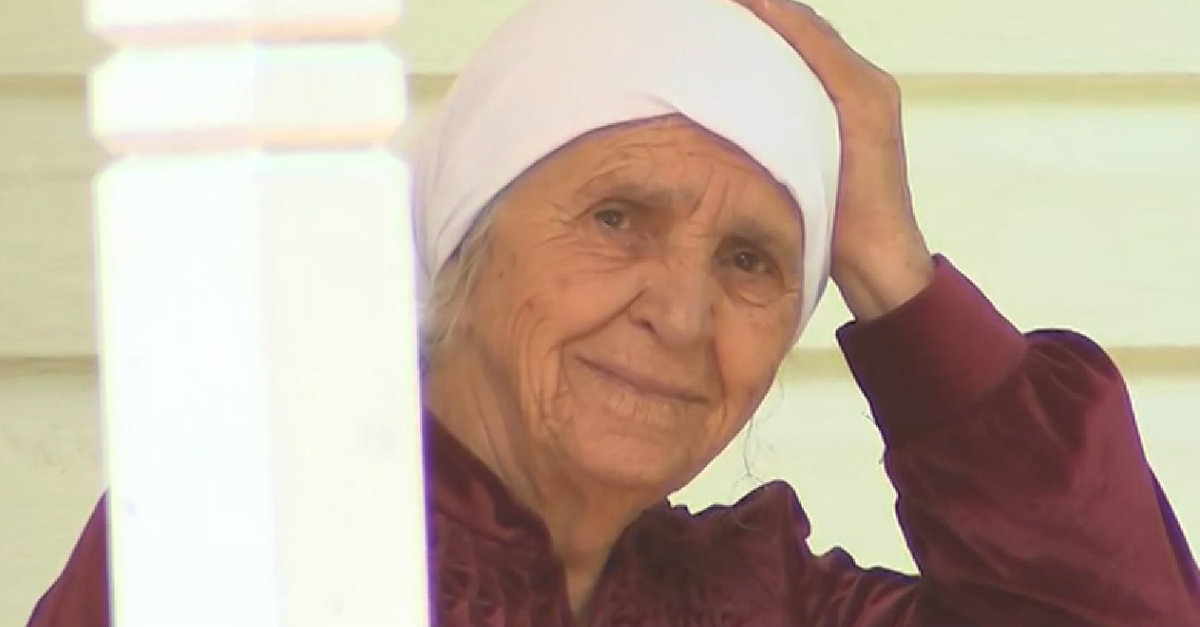 Police in Georgia tasered 87-year-old Martha Al-Bishara after this woman, who doesn't speak English, allegedly didn't comply with orders to drop a knife in her hand. But relatives said she was just cutting dandelions. Cops overreacted.
"You don't tase an 87-year-old woman," her great-nephew Solomon Douhne told the Daily Citizen-News. He's a former officer for the Dalton Police Department. "She was not a threat. If anything, she was confused and didn't know what was going on. It was a ridiculous turn of events. If three police officers couldn't handle an 87-year-old woman, you might want to reconsider hanging up your badge."
Chatsworth Police Department Chief Josh Etheridge defended the tasering. He said they got a call about an elderly woman with a knife at a Boys and Girls Club. Officers responded to the call. So did Etheridge.
They found the woman at the back of the property, he said. She did have a knife, and was standing at an elevated position over the cops, he said.
Officers tried to communicate with her, telling her to put the blade down, said Etheridge. But she didn't seem to understand commands, so according to him, he pulled out his own knife, and put it on the ground in an attempt to make her understand.
The woman, Al-Bishara, eventually started walking toward another officer at the scene, and still had the knife, said Etheridge. Then the taser was used. Etheridge defended the move because the woman had the high ground.
"No one wants to go to that point," he said. "No one wants to tase anyone, much less an 87-year-old woman." He called it the "hand we were dealt."
He suggested the possibility that she could've landed on the blade, and he said that the tasering was a better alternative to using deadly force.
There's actually body-came footage of the tasering. The Citizen-News took a look at it, but Etheridge told them that this won't be released because charges against Al-Bishara are still pending. She was arrested for criminal trespass and obstruction of an officer.
Footage reportedly shows the daughter and granddaughter arriving at the scene after the tasering. Medical personnel were not contacted, and the cops didn't tell the women that Al-Bishara was tasered.
"She had a small kitchen knife and was cutting dandelions in a lot next to her house," said Douhne. "She was not threatening any kids at the Boys and Girls Club."
Al-Bishara and her 96-year-old husband live across the street from the Boys and Girls Club. That lot was still accessible because there was only a partial fence.
The person who made the 911 call reportedly said the woman with the knife was not attacking anyone.
Al-Bishara's neighbor Elizabeth Usrey told the outlet Al-Bishara "wouldn't hurt a fly," and said it was ridiculous to use a taser on someone that age.
"This woman don't bother nobody or nothing," she said. "They keep their stuff clean and don't bother anyone."
Etheridge said there's an internal investigation into the use of force, and they contacted the Georgie Bureau of Investigation about it.
[Screengrab via WSB-TV]
Have a tip we should know? [email protected]