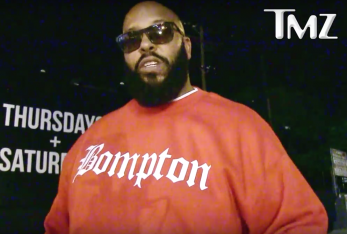 New documents filed in a Los Angles court on Friday by the attorney for Former Death Row Records CEO, Marion "Suge" Knight, make some shocking allegations about a conspiracy involving the Los Angeles Sheriff's Department and one of the most successful rap producer's in history, Dr. Dre, that allegedly ultimately led to Knight getting shot seven times at the West Hollywood nightclub 1OAK in 2014.
According to the New York Daily News, which obtained copies of the court filings, Knight's attorney, Thaddeus Culpepper, filed the motion with the court on Friday alleging that Knight's constitutional rights as a pretrial detainee are being violated.  Culpepper argues that the Sheriff is withholding certain privileges from Knight in jail, including phone, mail and visitors, as part of an ongoing cover up to prevent him from "connecting" his pending 2015 murder case to the 2014 1OAK shooting.
Knight is currently incarcerated awaiting trial on murder and attempted murder charges stemming from a 2015 altercation where Knight allegedly ran over two men with his truck, killing one man and seriously injuring another man.
The motion alleges that the lead deputy investigating Knight's pending murder charge was also responsible for investigating the 2014 1OAK shooting.  It further alleges that in a conversation with Knight after the 2014 shooting, that lead investigator informed Knight that the department had obtained a confession from a man identified as "Tee-Money," who said that he and an unidentified friend were paid $50,000 by Dr. Dre to kill Knight.
Culpepper then alleges in his motion that an off-duty sheriff's deputy "was seen on video letting the gunman in the door of 1OAK" just prior to the shooting.  Then, according to the motion, that same deputy was allegedly later seen at LAX "helping the gunmen flee the country" and shortly thereafter, authorities "inexplicably released Tee-Money."
According to the Daily News, Culpepper's filing also claims that sheriff's investigators attempted to solicit  another inmate named Danny Timms to make a false statement about Knight's guilt and involvement in the 2015 incident.
Culpepper's motion, at least as described by the Daily News article, does specifically spell out where Culpepper and Knight might be going with all of this and why Dr. Dre would allegedly pay $50,000 to have him Knight killed in 2014.
Although, according to TMZ, the part about the off-duty sheriff's deputy allegedly letting a suspected gunman in the door of 1OAK may have some truth to it.  "According to the docs, surveillance video clearly shows Deputy Henry Boyd letting the gunman inside the club, shortly before shots rang out," the celebrity gossip website wrote in an article on the subject posted Monday evening.  Boyd was subsequently questioned by authorities and resigned from the department shortly thereafter, according to TMZ.
Whatever the truth is in this sorted tale, perhaps the world will find out more at the next scheduled court hearing on April 21.
According to the Daily News, a DA spokeswoman offered no comment on the allegations and the Sheriff's Department also did not respond to a request for comment.
Dr. Dre's attorneys told TMZ the claims were "ridiculous."
[h/t New York Daily News; image via screengrab]
Have a tip we should know? [email protected]