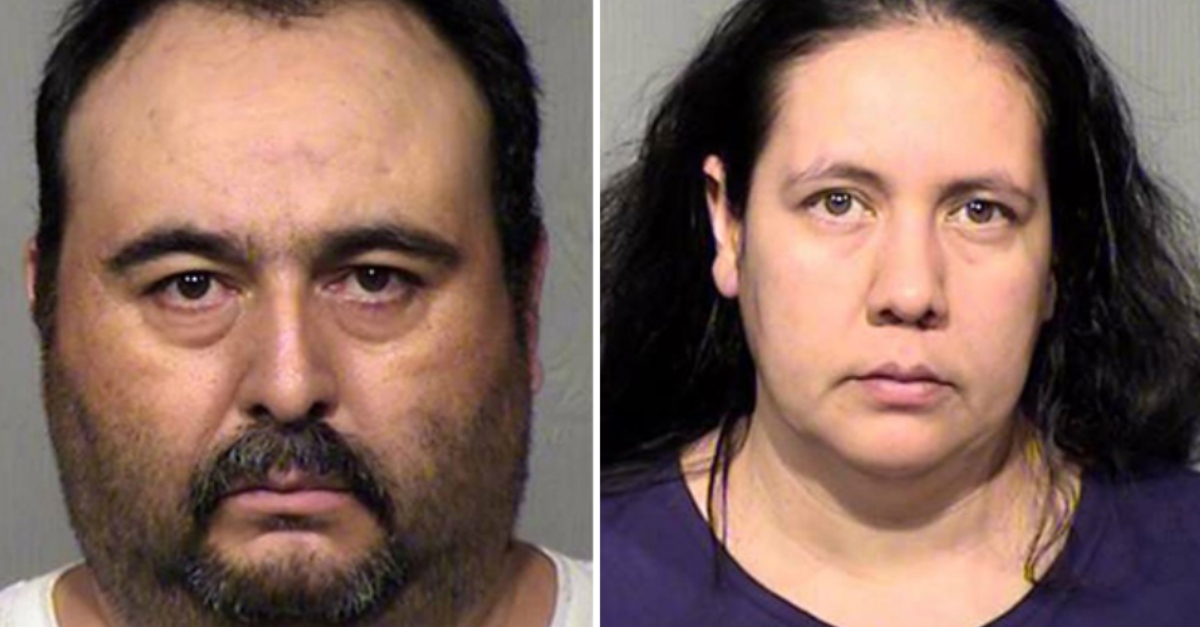 An Arizona couple has been charged in a unique sexual assault case. A woman picked up a day laborer at a Home Depot location and then her husband forced the man to have sex with her at gunpoint, according to the criminal complaint.
The victim told cops in Phoenix on April 8 that the woman, identified as Brenda Acuna-Aguero, picked him up from a Home Depot. He claimed that she took him to her home and offered to pay him to help her husband move some things. Once inside, she allegedly began discussing a fantasy of having sex with a laborer and asked to have sex with the man. The alleged victim said he played along until he realized that she was serious. He declined the invitation, but apparently it wasn't a mere invite.
Acuna-Aguero's husband, identified as Jorge Francisco Murrieta-Valenzuela, was allegedly uninterested in allowing the man to not have sex with his wife. According to the laborer, Murrieta-Valenzuelastepped into the room wielding a rifle and ordered him to have sex with Acuna-Aguero. This defendant allegedly threatened to shoot the laborer if this didn't happen.
The alleged victim complied as the husband took pictures and recorded the encounter, cops said. After that, the couple engaged in an extortion effort, according to cops. They stole his Mexican visa and driver's license, forced him to show his phone contacts, and made him confirm his wife's identity, police claimed.
Acuna-Aguero and Muerrieta-Valenzuela allegedly ordered the man to return the next day and said they'd have Viagra ready for him. He didn't follow orders and contacted police after he couldn't get the couple to return his visa and driver's license, according to the complaint. His wife had called him from Mexico to say that she received pictures of him in relations with another woman.
Investigators said they were able to confirm the details of the laborer's story by using evidence, including detailed confessions from both defendants. The alleged victim, for example, was able to confirm identifying marks on Acuna-Aguero's body, according to the complaint. She admitted that her husband confronted the laborer at gunpoint, and that the sex was recorded without the man's permission, cops said.
Police said cell phone, video, and photographic evidence also confirmed the allegations.
Murrieta-Valenzuela allegedly admitted to carrying out the forced sex fantasy, admitted to the theft of the visa and driver's license, and admitted that he demanded that the laborer return the next day for more sex with his wife. Cops said that there's photographic and video evidence showing the defendants in a similar scenario from March, but officers said the victim's identity is "unknown." Murrieta-Velenzuela allegedly told cops they had done this sort of thing about four times before with random men.
Records show that Acuna-Aguero is set to be represented by the public defender's office, while Muerrieta-Valenzuela will be linked to the separate legal defender's office. Attorneys did not immediately respond to a Law&Crime request for comment.
[Mugshot via Maricopa County Sheriff's Office]
Have a tip we should know? [email protected]