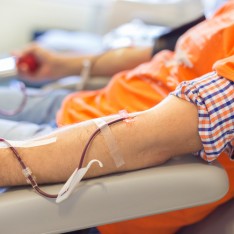 Alabama Circuit Court Judge Marvin Wiggins was suspended with pay after a judicial monitoring commission filed charges against him, for essentially forcing poor defendants to donate blood if they didn't have money to pay fines.  Dozens of people donated blood at a drive outside of the courthouse,  and — turns out — most of them didn't do it out of goodwill. 47 of the 53 who donated  also happened to be defendants before Judge Wiggins, according to local reports.  You see, according to the Alabama Judicial Inquiry Commission, Wiggins can't do that.  They called his actions "reprehensible," and "inexcusable."
Wiggins' unique sense of justice made national news back in October when the Southern Poverty Law Center (SPLC) filed a judicial ethics complaint against Wiggins after it obtained an audio recording from the judge's courtroom in which he can heard telling defendants if they do not have money to pay their fines, they should go give blood and bring him a receipt for verification.
Those who did not have money and did want to give blood were told, "the sheriff has enough handcuffs" for all of you.
Listen:
The commission's charges will be heard before the Alabama Court of the Judiciary, which could reprimand, suspend, or remove Wiggins from the bench. The matter is set for an expedited hearing on January 21.
This is not Wiggins' first time being brought before the Court of the Judiciary; in 2009 he received a public reprimand and a 90-day suspension after refusing to recuse himself from a voter-fraud case involving some of his relatives.
[h/t AL.com; image via shutterstock]
Have a tip we should know? [email protected]