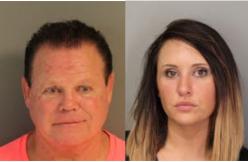 A pro-wrestling legend is facing an ugly allegation. On Friday, police in Memphis, Tennessee arrested Jerry "The King" Lawler for domestic assault against his fiancée, Lauryn McBride. Thing is, though, McBride has been arrested for the same crime, with Lawler her alleged victim.
In a jailhouse interview, the 66-year-old Lawler told KMOV a drunk McBride lashed out at him. She'd returned home drunk after watching Game 6 of the NBA Finals with her friends.
"When she drinks we get into a little bit of a shouting match and then she wants to leave," Lawler said over the phone. "I was not going to let her leave in the car because she was not in any condition to drive. She got more and more upset."
Lawler told cops she scratched him in the face, threw a candle, and kicked him in the crotch. He also claimed the inebriated McBride threatened to commit suicide with a gun.
But then there's McBride's story. The 27-year-old claimed that Lawler assaulted her during an argument.
From KMOV:
She said Lawler held her against the kitchen counter, hit her in the head, pushed her against the stove, put a gun on the kitchen counter, and told her to "go ahead and kill yourself."
Lawler denied this allegation, saying "Nobody was hit and nobody was hurt." He blamed it all on McBride's alcohol usage.
If you're not a wrestling fan, just know that Lawler is a big deal. His career stretches back for over 40 years, including a memorable feud with comedian Andy Kaufman. In recent decades, he's worked on-and-off as an announcer for the WWE's top weekly show, RAW.
That working relationship now stands on shaky ground.
"WWE has zero tolerance for matters involving domestic violence, and per our policy, Jerry Lawler has been suspended indefinitely following his arrest," the company said in a statement.
Lawler and McBride remain in custody with the Shelby County Sheriff's Office as of Friday morning. They each face one count of domestic assault-bodily harm, and are scheduled for a court hearing on June 20.
–
Follow Alberto Luperon on Twitter (@Alberto Luperon)
Have a tip we should know? [email protected]