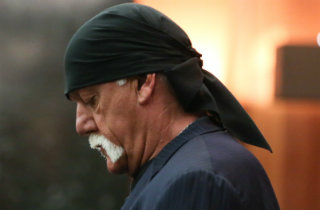 On Wednesday, after LawNewz revealed that Hulk Hogan (real name Terry Bollea) and Gawker Media settled for $31 million, one important piece of the story flew under the radar of most news organizations. As part of the settlement deal, Ashley Terrill and Shiva Ayyadurai, fellow clients of Charles Harder, Hogan's lead attorney, each reached six figure settlements for their respective defamation lawsuits against Gawker.  And that's a big problem.
Terrill sued over an article about her claims that a story she was researching was putting her life in danger, while Ayyadurai's case pointed to three different articles refuting his claims that he invented email. When it was filed, Gawker issued a statement calling Terrill's suit "frivolous," but there's not a set of independently available public fact checking you can do on her case. In other words, it's at least theoretically possible to give her the benefit of the doubt. Ayyadurai, however, is different, to the point that it's infuriating that he got $750,000 and proclaimed that "history will reflect that this settlement is a victory for truth."
Ayyadurai did, in fact, develop an email program named "EMAIL" in 1979 and get a copyright that specific program in 1982. That he did this when he was just a teenager is impressive, but writing an email program and naming it "EMAIL" is not the same as inventing the underlying protocols behind email, which were created in the 1960s by Ray Tomlinson, Abhay Bhutan, and others. To put a twist on Ayyadurai's claims, if Microsoft had named Outlook "EMAIL," they wouldn't have invented email, either. Ayyadurai parlayed his story into years of picking up speaking gigs, being the subject of profiles, and so on, always billing himself as "the inventor of email," and it was a topic that deserved a thorough examination.
Sam Biddle did just that for Gizmodo/Gawker, but he wasn't the only one. The Washington Post, The Smithsonian, TechDirt, and others have all questioned Ayyadurai's claims, but he only sued over the articles published by Gawker Media. It's hard to look at what happened and not think that Ayyadurai, with help from Harder, sued strategically. With all of this in mind, you must all be asking the same question: If Ayyadurai didn't really have a strong case at all, why would Gawker, even a bankrupt version, want to settle. That's where it gets a little more complicated.
When Gawker Media filed for bankruptcy in June, the $35 million that Ayyadurai asked for in his complaint became one of the company's largest unsecured debts. Why? While it sounds strange, bankruptcy law doesn't really distinguish between requests for damages where the dollar amount is is closer to guesswork.
"Here's the way it typically works using your example," explained bankruptcy lawyer Byron Moldo. "In some cases, the debtor would list the claim in the amount that's referred to in the complaint, [because] the exact amount needs to be quantified before it's an allowed claim in bankruptcy." For better or worse, Ayyadurai was saying he was owed money, so it has to be reflected in the bankruptcy filings and eventually addressed.
According to Moldo, settlements like these are actually fairly common  in bankruptcy court, regardless of the merits of the case. "To continue to defend these lawsuits going forward, the bankruptcy estate is going to incur a huge amount in terms of attorney's fees," he notes. "That's why these types of matters are typically compromised."
With all of this in mind, I asked Moldo about a hypothetical: In August, about two months into the bankruptcy and just days before most of the Gawker Media properties was sold, the flagship Gawker blog (which was not sold) had an article that mentioned me by name. Written by Ashley Feinberg and titled "These Are the Worst People in Online Media," it was about a weird email chain among media members that got out of control with "reply all responses." I joined in after it had turned into a weird joke, so I made the titular list. I found it hilarious and a weird badge of honor. But if I hadn't, and I decided then and there to file some kind of nebulous defamation lawsuit against Gawker Media, what would happened? Would I have had a good shot at a settlement?
Moldo's answer was a bit surprising, to say the least.
"Because it happened after the bankruptcy, you'd be in an entirely different category. You would have a better chance of collecting 100 cents on the dollar as opposed to somebody whose claim arose before the bankruptcy." In other words? I would have had a decent shot at a sizable settlement in spite of having no case. How's that for justice?
This is an opinion piece. The views expressed in this article are those of just the author. 
[Photo: Pool Photo]
This is an opinion piece. The views expressed in this article are those of just the author.