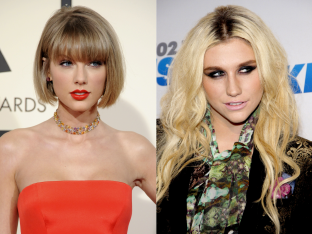 Taylor Swift is showing her support for pop star Kesha in a big way — to the tune of a $250,000 donation to help the "TiK-ToK" singer as she battles to get out of her recording contract with a record producer that she alleges abused and raped her for years.
"In a show of support, Taylor Swift has donated $250,000 to Kesha to help with any of her financial needs during this trying time," a spokesperson for Swift wrote in a statement to Rolling Stone magazine.
On Friday, a New York judge denied Kasha's request to nullify the remainder of her six album recording contract with record producer Dr. Luke and his record company, Kemosabe Records, a subsidiary of Sony Music.  In 2014 Kesha filed a civil lawsuit against Dr. Luke, alleging mental and physical abuse, drugging and sexual assault.
Dr. Luke's attorney, Christine Lepera, told the magazine they were pleased with the ruling and denied the abuse allegations, saying, "We remain confident that when all the facts are presented that [Kesha's] allegations against [Dr.] Luke will be shown to be completely false and were asserted solely to extort money and gain contractual leverage."
Dr. Luke was not charged criminally.
Other stars like Lady Gaga, Ariana Grande, Demi Lovato, Lorde and Kelly Clarkson have been outspoken in their support of Kesha on Twitter and other social media platforms, but Swift is the first high-profile celebrity to offer support in the form of a monetary donation.
A source close to Swift told Rolling Stone that Swift decided to show her support and offer the donation after viewing "the heartbreaking courtroom photos of Kesha" sobbing in a New York court room after the judge denied her injunction request.
According to the New York Daily News, Sony Music has offered to allow Kesha to work with another producer in order to complete her six album contract, but so far, Kesha has been reluctant to go forward with the offer out of fear that the label will not promote her music as heavily if she is not working with Dr. Luke.
[h/t Rolling Stone; images via shutterstock]
Have a tip we should know? [email protected]