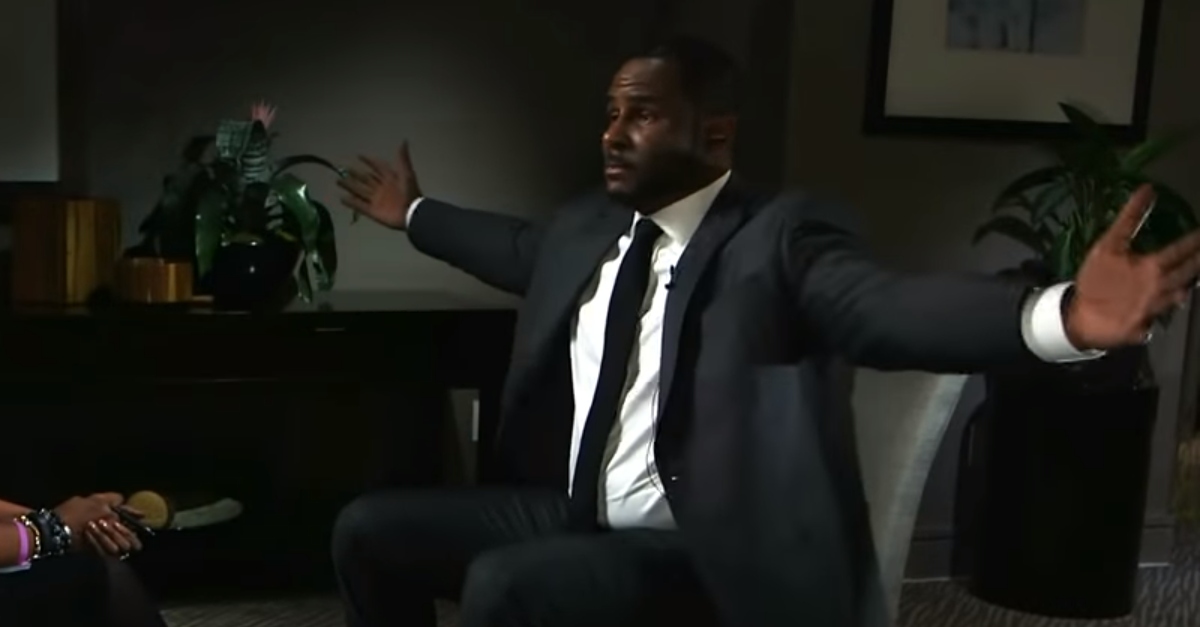 Singer R. Kelly was taken into custody on Wednesday over $161,663 in unpaid child support, Cook County Sheriff's Office Director of Communications Sam Randall told Law&Crime.
This development happens in the immediate aftermath of an interview with CBS News' Gayle King. Kelly vehemently denied sexually abusing women and girls. He faces 1o counts of aggravated criminal sexual abuse. He has pleaded not guilty. Prosecutors say he sexually assaulted four women over the years, three of whom were minors. Authorities claim there's DNA evidence backing two of the cases, and video proving the third. The singer was acquitted in 2008 in an infamous child pornography case.
This child support issue is a civil matter rather than a criminal case. Kelly is expected to be transferred to the Cook County Jail in a couple of hours. The next step is a hearing on March 13, Randall said.
Kelly continued to deny allegations in the new CBS interview. He complained that people were stilling bringing up the previous criminal case against him. Prosecutors at the time said he was on video tape sexually abusing a teenage girl. Kelly was acquitted after family members of the alleged victim were split over whether the girl on the video was her. Four said yes, three no.
The singer was initially held in the current criminal case on $1 million bond, but only had to pay a tenth of that. Some remarked on how one of the top singers of the 1990s and 2000s couldn't immediately pay it. Kelly attorney Steve Greenberg said at a hearing that mismanagement and other issues sapped Kelly's wealth, according to the Tampa Bay Times.
Note: Law&Crime reached out to a Greenberg spokesperson for comment, but were told that he is under a gag order.
[Image via YouTube screengrab]
Have a tip we should know? [email protected]