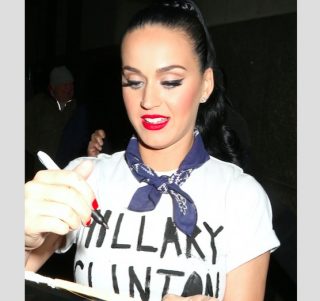 The Hollywood liberal has been a stock figure in American politics for decades. Conservative politicians have long denounced or mocked the alleged political influence of musicians, TV stars, and Golden Globe recipients. While the entertainment industry does indeed lean well to the left, though, most of that money comes from producers and media magnates, not the people you see on screen.
The only household names in the entertainment industry to make our list of top 100 donors in 2016 were Jeffrey Katzenberg of Dreamworks and the conservative McMahons of the WWE (and, now, the Small Business Administration). In terms of the "talent," though, the same handful of politically aware celebrities tend to be the ones giving cycle after cycle. Barack Obama's first run inspired a wave of new big-name contributors (though not nearly as many as his opponents implied), but few of those gave again this cycle.
That said, 2016 did feature a handful of new entrants writing their first checks to federal candidates.
Hillary Clinton's campaign was sometimes accused of relying too heavily on its celebrity endorsers, but the same can't be said of her fundraising: Entertainment didn't crack the list of her top five industries. Among those honoring her with their first-ever contributions were prominent feminists such as Amy Poehler and Beyoncé, each of whom gave her the maximum of $2,700 early in the campaign. Katy Perry also made her first donation to Clinton, then announced a donation of $10,000 to Planned Parenthood (though not its political arm) after Trump's win. Among Clinton's other first-time contributors were performance artist Marina Abramović, actor Bruce Willis and celebrity chef Wolfgang Puck.
Bernie Sanders' lineup of celebrity endorsers was less extensive, but he still managed to add some fresh, paparazzi-worthy faces to his cast of donors. Actress Rosario Dawson, an outspoken Bernie backer, gave the maximum to his primary campaign; she went on to give to Jill Stein and several progressive congressional candidates during the general election. Sanders also received actress Shailene Woodley's first-ever contribution. Sanders' other first-time givers included actor Alfred Molina, actress Gaby Hoffmann, and Vampire Weekend bandleader Ezra Koenig. Consistent with Bernie's grassroots image, all gave through ActBlue rather than at a fundraiser. None subsequently gave to Clinton during the general election, unlike some pro-Sanders celebrities with a longer history of giving to Democrats, such as producer Seth MacFarlane and actress Rhea Perlman.
President-elect Donald Trump has spent much more time feuding with celebrities than campaigning with them, and almost no big names on his less impressive roster of endorsers gave to him, even the ones who are long-time Republican contributors, such as actors Chuck Norris and Jon Voight. (Since you asked: Trump's Saturday Night Live near-doppelganger, Alec Baldwin, didn't give to any presidential candidate; his only contribution of the 2016 cycle went to actress Melissa Gilbert, who ran for a House seat but dropped out for health reasons.)
As for new donors, actress (of Clueless fame) and Fox News host Stacey Dash did endorse Trump, but chose to make her first donation to the Republican Party of California instead. Similarly, former reality TV star, talk show host and activist Rachel Campos-Duffy, another Trump endorser, gave her first contribution to the Republican Party of Wisconsin, the state that sends her husband Sean Duffy to Congress. Trump did a little better with the right-leaning world of professional sports than with Hollywood, receiving first-time contributions from a pair of athletes with ties to his home state: Buffalo Bills lineman Richie Incognito and former New York Jets quarterback Mark Sanchez.
More formidable still, though, is the list of celebrities who did not give in 2016 and have never given. Even many of the recognizable faces you see at the party conventions or headlining rallies have never made a disclosed, federal contribution. Of the five richest American musicians and actors on Forbes' 2016 Celebrity 100, for instance, none donated in 2016. Some likely focus more on issue advocacy or charitable work, while others may not open their checkbook much at all. It's the multimillionaires in much less glamorous industries, meanwhile, that professional Democratic and Republican fundraisers turn to year after year.
This was written by Andrew Mayersohn for OpenSecrets.org, and reprinted with permission by LawNewz.com. The original version of the story appeared here. OpenSecrets.org is a nonpartisan nonprofit organization which tracks money in U.S. politics.
[image via shutter stock]