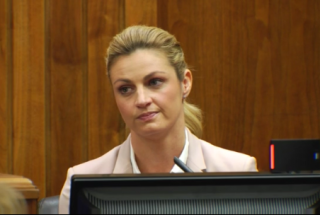 The defense questioned Erin Andrews at the trial against stalker Michael Barrett and the Nashville Marriott on Tuesday. The defense strategy  seemed tried to imply that Andrews gained from suffering from this whole ordeal. One has to wonder what kind of attorney thinks it is wise, or even appropriate, to bully the victim in this kind of case.
The attorney asked if anyone thought more highly of her afterwards, and Andrews said no. The lawyer wouldn't accept an answer he didn't like, going on the offensive, repeatedly asking the same question about whether  people thought better of her. "For being the victim of a crime?" Andrews responded. She held her ground, only acknowledging that people may have a higher opinion based on the way she has handled the situation.
The defense then turned to how the media handled the incident, implying that the extended coverage is really what caused the emotional problems Andrews described earlier in the day, not his client, the Nashville Marriott.
Stay with LawNewz.com for continuing coverage of this case.
Have a tip we should know? [email protected]