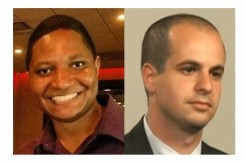 Jarrett English is an organizer for the ACLU of Wisconsin. Rep. Jonathan Brostoff, a Democrat, serves in the state legislature. They were arrested yesterday at the Sherman Park area Tuesday, and if you guessed the fallout from this included a strongly worded statement, they pat yourself on the shoulder, you were right.
"Last night in the Sherman Park area, Milwaukee police officers in riot gear wrongfully arrested two men for no good reason," the ACLU wrote in a statement published Thursday. "But this time, the men they arrested had the means to demand their rights and were released."
They say a "handful of people" including English and Brostoff, were standing on a street corner near a blocked-off part of the street. Cops had restricted access to the area since the August 13 shooting of Sylville Smith, a black man killed by police.
The ACLU claims English was arrested even though he followed police instructions to move away. He was allegedly cuffed, pushed to the ground, searched, and forced into a paddy wagon with the lawmaker.
English spoke about the incident with the ACLU.
The situation was confusing, because I really did not know what I was being arrested for. It was embarrassing and dehumanizing, and I did not feel that I was being treated with the dignity and respect that should be afforded any individual. But I was mostly thinking about all of the young people this happens to every day who don't have anyone to call to get free. We cannot continue doing this to our people. It has to stop.
We've reached out to the Milwaukee Police Department for comment, and will update if we hear back.
[image of English, on left, via Facebook; image of Brostoff via ]
–
Follow Alberto Luperon on Twitter (@Alberto Luperon)
Have a tip we should know? [email protected]