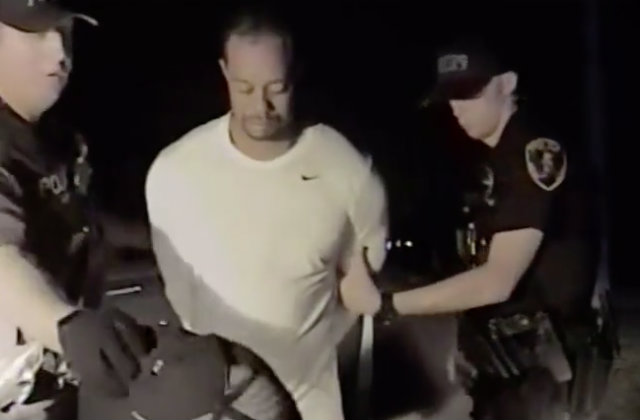 LawNewz.com has learned that Florida prosecutors have hit pro golfer Tiger Woods with a third charge — just one day before his arraignment.
According to court records on file in Palm Beach County, Woods now faces an additional charge of reckless driving.
Under Florida law, that new charge forbids someone from driving "any vehicle in willful or wanton disregard for the safety of persons or property."
It carries a possible penalty upon first conviction of a jail sentence of not more than 90 days or a fine of between $25 and $500. State statutes also allow a judge to order a DUI substance abuse education course and evaluation for anyone charged with reckless driving along with an underlying DUI, which Woods already faces.
Court records state that the reckless driving charge was added August 8, 2017, just one day before Woods was scheduled to be arraigned on the two previous charges he faces for allegedly driving under the influence of prescription drugs and for improper stopping, standing, or parking.
It is possible that the third charge was added to keep options open for a plea agreement. Prosecutors might convince Woods to agree to a reckless driving charge and the attached DUI education course instead of facing trial on the more serious DUI charge itself.
Police say they found Woods stopped and asleep behind the wheel in the early morning hours of May 29th this year. They say his vehicle's engine was running and that one of his turn signals was activated. Woods struggled through field sobriety tests, but breath tests revealed there was no alcohol in his system. Woods did state he had taken various prescriptions for knee and achilles tendon issues, court records indicate.
In an email to the Associated Press, an attorney for Woods said the golfer himself would not be present for an 8:30 a.m. arraignment on Wednesday, August 9th. Florida law allows defendants to waive pretrial hearings if they so wish — but only if they plan to plead not guilty, analysts say.
The LawNewz Network will carry the arraignment live beginning at 8:30 a.m.
Have a tip we should know? [email protected]
Aaron Keller - Deputy Editor-in-Chief