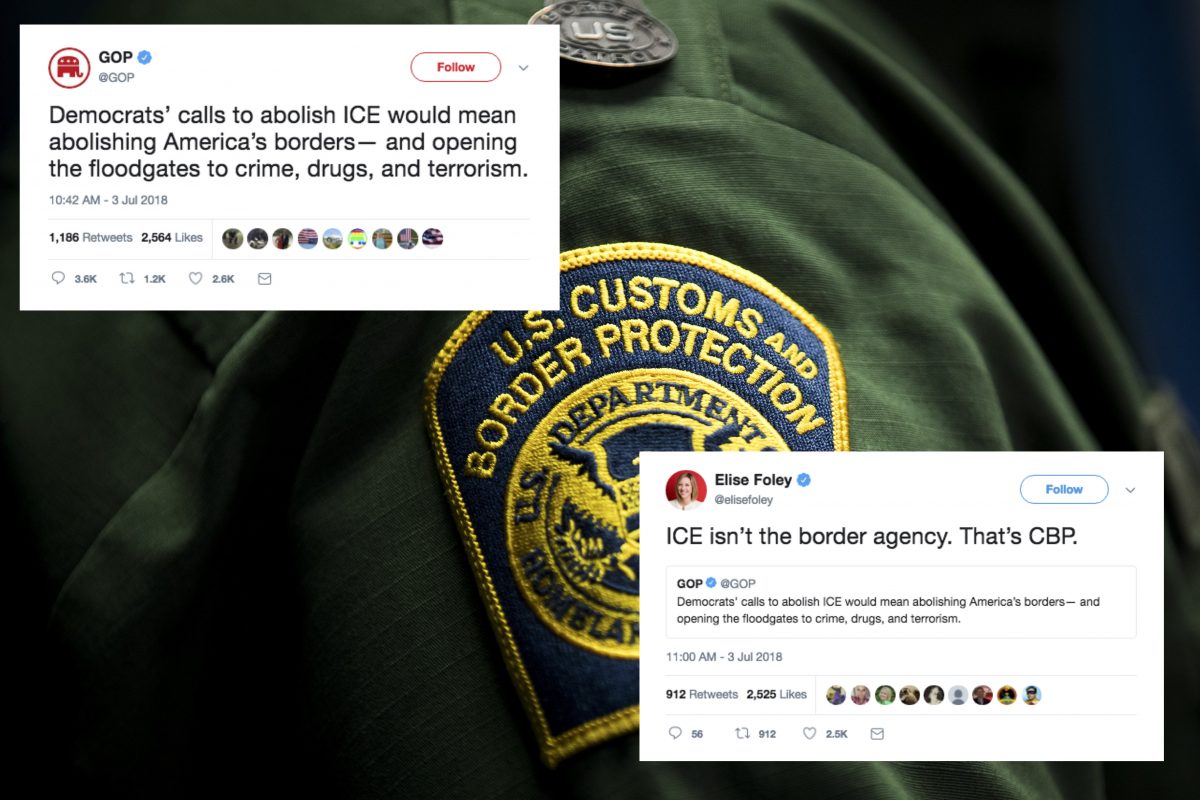 The Republican Party's official Twitter account is currently being mocked by people online. Somewhat ruthlessly at that.
It all started at 10:42 a.m. on Tuesday, when @GOP posted the following update:
Democrats' calls to abolish ICE would mean abolishing America's borders— and opening the floodgates to crime, drugs, and terrorism.
Over the past few months, several Democratic Party politicians have aligned themselves with the growing movement to abolish or restructure U.S. Immigration and Customs Enforcement. Most Democrats close to the party's establishment, however, have been reluctant to endorse the idea. Support for the #AbolishICE movement currently polls around 21 percent nationally–roughly half as popular as public support for abolishing the IRS after decades of Republican activism against the nation's income tax agency.
So, that's the backstory. People are making fun of the GOP's tweet because ICE isn't the agency which protects America's borders. That job belongs to Customs and Border Protection; specifically the Border Patrol. And Twitter users were more than happy to provide that clarification to the nation's second-oldest political party.
Comedian Scott Nevins wasted no words in setting things straight:
FACT: ICE does not enforce the boarder. This tweet is an absolute false statement in every way.

— Scott Nevins (@ScottNevins) July 4, 2018
Author Pete Forester accused the GOP of intentionally misleading people:
ICE has nothing to do with border enforcement. You know this. What sucks is that you know This and you're saying it anyway to scare the rubes you've manipulated with lies like this one. Too bad you can't debate on the merits.

— Pete Forester (@pete_forester) July 4, 2018
Even a famous surgeon got in on the corrective action:
Are you really that stupid or just that cynical? @ICEgov is only 15-16 years old. Do you really mean to claim that we didn't have borders or border enforcement before 2002? Oh wait. @realDonaldTrump supporters are gullible enough to believe you. Cynical it is!

— David Gorski, MD, PhD (@gorskon) July 4, 2018
The criticism continued and readers are encouraged to search through the replies. Be careful, however, there are a lot. In fact, this tweet appears to be in the running for making ratio history.
As the 15-year-old federal agency has become the public face of the Trump administration's widely-despised zero tolerance and family separation policies, criticism of ICE's enforcement raids has ramped up. Some of this criticism has been a bit off-base as the dizzying number of federal agencies can be a bit confusing. Aside from the GOP, many progressives and liberals have confused ICE's mandate with the mandates of America's actual border control agencies. Remember those viral images of children in cages? Most of them were placed there by CBP agents–not ICE.
Sophie Werthan at Slate put together a comprehensive explainer on the distinctions here. Let's run down the difference in brief.
Facilitating travel and trade between designated entry points? That would be CBP. Their mission statement notes:
To safeguard America's borders thereby protecting the public from dangerous people and materials while enhancing the Nation's global economic competitiveness by enabling legitimate trade and travel.
Patrolling the nation's vast border from improper entry? That would be the Border Patrol (a sub-agency administered by CBP):
The Border Patrol is specifically responsible for patrolling nearly 6,000 miles of Mexican and Canadian international land borders and over 2,000 miles of coastal waters surrounding the Florida Peninsula and the island of Puerto Rico…The primary mission of the Border Patrol is to protect our Nation by reducing the likelihood that dangerous people and capabilities enter the United States between the ports of entry.
As for what ICE actually does? Here's the agency's basic description of itself:
While certain responsibilities and close cooperation with U.S. Customs and Border Protection, U.S. Citizenship and Immigration Services, and others require significant ICE assets near the border, the majority of immigration enforcement work for ICE takes place in the country's interior.
As the last clause makes clear, most of ICE's enforcement work "takes place in the country's interior." As noted, some ICE assets are placed "near the border"–sort of like the GOP's social media person nearly got their tweet right.
[image via Drew Angerer/Getty Images]
Follow Colin Kalmbacher on Twitter: @colinkalmbacher
Have a tip we should know? [email protected]