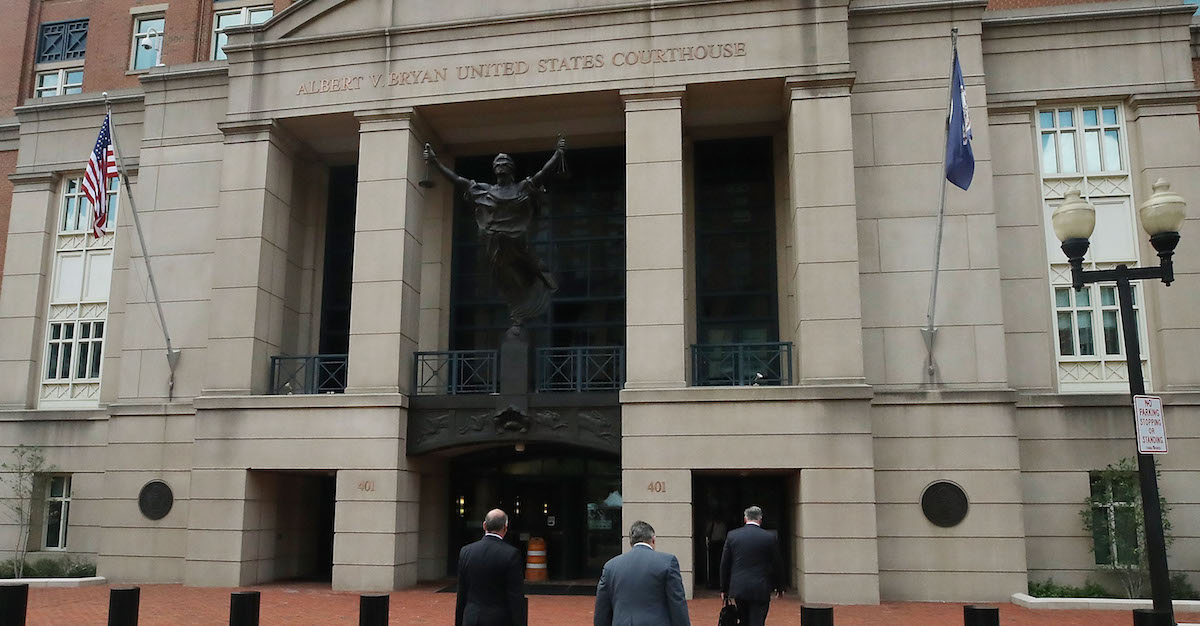 A few procedural dust-ups sent the proceedings against Paul Manafort in the Eastern District of Virginia into overtime on Wednesday.
Three distinct issues took the fore–and the court's attention–following the defense's double-pronged closing arguments. (Defense attorneys Richard Westling and Kevin Downing took turns as each focused on various and distinct points.)
The first issue were multiple mentions of the word "audit." Downing once said, of Manafort's tax problems, "This is an issue for an audit." At another point, he noted, "There may be falsities on these returns [but this is an] issue for an audit." At yet another point, Downing claimed that an audit of Manafort's finances would have saved everyone a lot of time and turmoil–with the explicit suggestion that an audit was more appropriate in this case.
In turn, the government, led by Assistant U.S. Attorney Greg Andres, requested a curative instruction be given to the jury because, Andres argued, it simply wasn't relevant. This was not a flashpoint of controversy. Both sides quickly agreed that a curative instruction was necessary and proper under the circumstances.
The second issue had to do with what Andres initially claimed was a repeat "violation of an in limine motion entered by the court." That is, prosecutors had earlier requested–and obtained–a court order barring any reference to "selective prosecution."
Let's be very clear here because this has caused quite a bit of confusion. Judge T.S. Ellis III almost immediately dismissed the notion that Manafort's defense team had violated the court's order on this issue. Just as quickly, Ellis noted that Andres had made a good point and the judge was heavily leaning toward issuing a curative instruction on this issue as well.
This appears to be where things got mired in lack of understanding. Andres indeed made reference to that earlier motion. But the defense never once actually used the phrase "selective prosecution." Instead, there was an argument by the defense that Robert Mueller and his army of attorneys had overcharged the defendant in an attempt to overwhelm the jury.
There was also a claim that U.S. attorneys don't really go after white collar crime that much. Additionally, Westling claimed the government cherry-picked their evidence. The defense also noted that none of the allegedly defrauded banks complained to the government–but that charges were brought after the special counsel's office started looking into Manafort's finances.
Combined, those various arguments have a fairly clear implication, but again, the issue wasn't much in contention and both parties almost immediately agreed to Judge Ellis issuing another curative instruction. There was some very brief debate about the wording–but immediately backtracking, both Andres and Ellis eventually agreed the term "selective prosecution" was not acceptable. The Washington Post and other media reports jumped the gun on this and ran with the imprecise language. But in law, precision is very important.
The agreed upon curative instruction reminded the jury that they could not consider the Department of Justice's "motive or lack thereof" in prosecuting Manafort.
The third issue had to do with Westling having mentioned that Federal Savings Bank charged Manafort hundreds of thousands of dollars for two loans. This issue took up most of the time–but in the end it was mostly a waste of time.
After noting Westling's comments on the matter, Andres telegraphed his intention to mention that the loans in question had actually been written off by the bank. That is, they didn't anticipate they'd ever collect on them in full. Why was this a problem? Because, Downing said, he thought there was a prior agreement not to mention the loans being written off. And, if there wasn't such an agreement, his closing arguments would have been different.
Andres responded that there was no such agreement–and this was true. There was an earlier defense request for judicial notice which implicated the loans but didn't directly speak to whether the Federal Savings Bank had made money on them or not. This request was rejected. Since Downing had brought up Manafort paying the bank some money on the loans, however, Andres wanted to mention that the bank had actually lost money since they were written off.
Back and forth discussions–and recesses–dragged on for over an hour on this minor point. And, as noted, it was ultimately all for naught. Judge Ellis eventually sided with the government: Andres could mention the loans were written off because it was a fact in evidence. He expressed sympathy for Westling's plight, but there wasn't really much to be done.
Once Andres took the lectern for his final 17 minutes, he promptly forgot (or decided not) to mention the issue whatsoever.
[image via Mark Wilson/Getty Images]
Follow Colin Kalmbacher on Twitter: @colinkalmbacher
Have a tip we should know? [email protected]