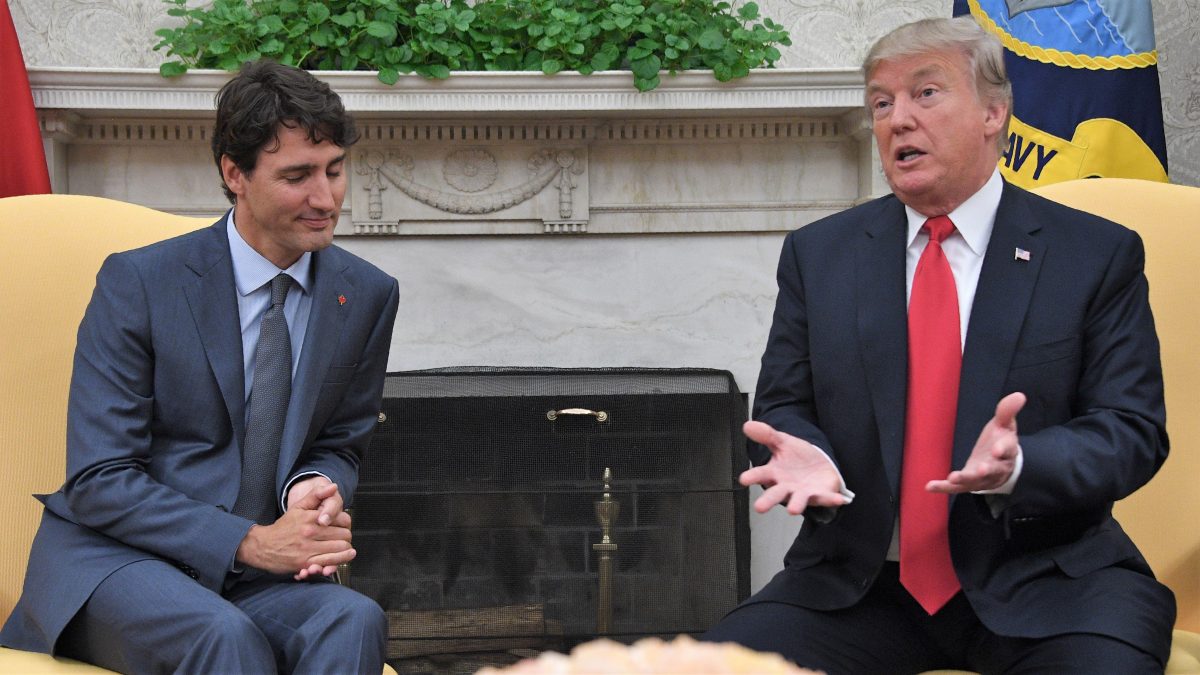 President Donald Trump reportedly said he "can't kill these people" (in a reference to the Canadian government), but he is apparently keen on bullying the Canadians during talks regarding NAFTA. That's according to a bizarre Friday report in the Toronto Star, one of Canada's two largest newspapers.
The report cites an off-the-record conversation which is alleged to have occurred between Trump and several Bloomberg News reporters in the Oval Office. How the Star learned of the conversation is unclear from the report, but the Star did make its editorial judgment plain: "The Star is not bound and by any promises Bloomberg made to Trump . . . [t]he Star was not able to independently confirm the remarks with 100 per cent certainty, but the Canadian government is confident they are accurate."
So much for 'off the record.'
In the meeting, Trump reportedly said that he was refusing to back down on anything involving NAFTA, but that he couldn't say so publicly because it would insult the Canadians.
"Off the record, Canada's working their ass off. And every time we have a problem with a point, I just put up a picture of a Chevrolet Impala," he reportedly said. The Impala is made in Canada.
"Here's the problem. If I say no — the answer's no. If I say no, then you're going to put that, and it's going to be so insulting they're not going to be able to make a deal . . . I can't kill these people," Trump also reportedly said.
The president is said to have further referred to the negotiations as being "totally on our terms."
The Star reported that the Canadian government somehow obtained the Trump quotes and proverbially shoved them back across the table at U.S. negotiators, who reportedly include Jared Kushner, Trump's son-in-law, and U.S. Trade Representative Robert Lighthizer.
The White House reportedly struggled with the alleged nature of the comments as off-the-record, then said Canadian and U.S. "negotiators continue to work on reaching a win-win deal that benefits both countries."
The Star summed up its thoughts of the reported exchange as follows:
Trump, of course, is known for both dishonesty and for bragging about his own greatness, and he regularly makes dubious claims about how he is supposedly dominating the begging people on the other side of the bargaining table from him. When he claimed to have made no compromises, it is distinctly possible he was making a false claim to impress the Bloomberg journalists.
Canadian Prime Minisiter Justin Trudeau later said that his emissaries would "remain constructive, positive, serious and creative about what we do around the negotiating table . . . but we are also going to be unequivocal about always standing up for Canadians' rights and Canadians' interests." That's according to the CBC.
The talks continue, reports Canadian television network CTV, but a mid-morning update suggested things were not going well. Trump had set a Friday deadline.
At first, Trump's purported comments blew up the news cycle in Canada.
And what did Trump mean when he said I can't kill the guys? What, invade Canada? pic.twitter.com/gQBV13GqAU

— 1 ❄️in the avalanche (@AkaMotherto3) August 31, 2018
As an amateur Trump Vocabologist, I'm confident "I can't kill these people" meant "I can't be too hard on the Canadian government in public by declaring I'm not giving up anything to them." https://t.co/3lr9uGE3Bk

— Daniel Dale (@ddale8) August 31, 2018
Friday afternoon, Trump responded, as he often does.
Wow, I made OFF THE RECORD COMMENTS to Bloomberg concerning Canada, and this powerful understanding was BLATANTLY VIOLATED. Oh well, just more dishonest reporting. I am used to it. At least Canada knows where I stand!

— Donald J. Trump (@realDonaldTrump) August 31, 2018
[Image via JIM WATSON/AFP/Getty Images.]
Have a tip we should know? [email protected]
Aaron Keller - Deputy Editor-in-Chief