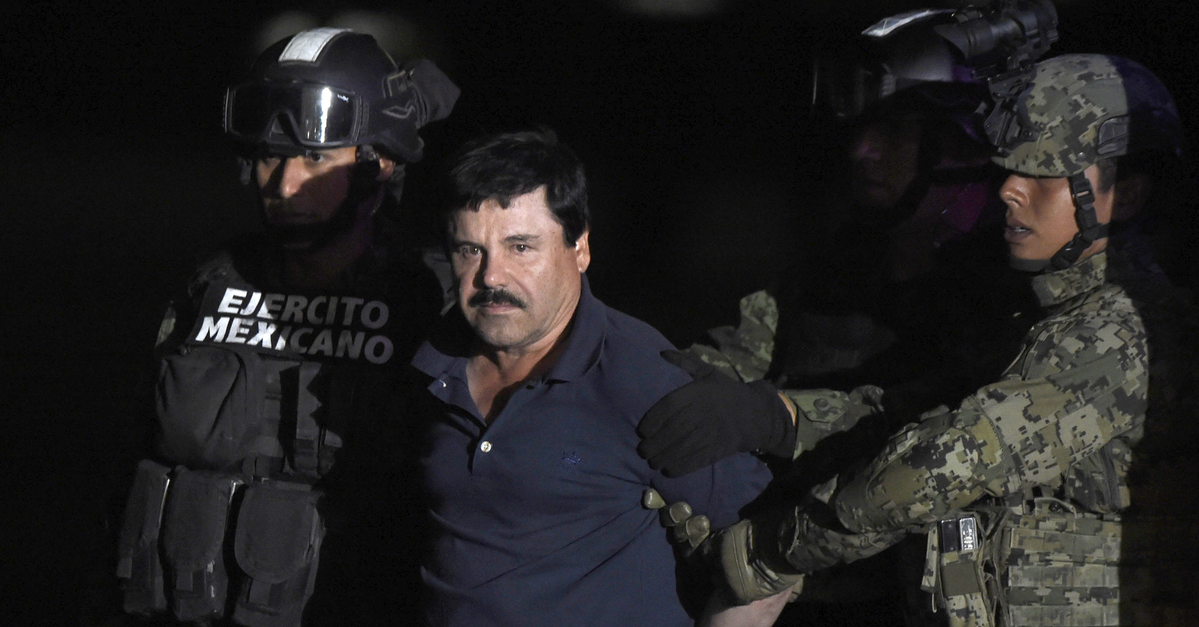 Joaquin "El Chapo" Guzman Loera's mistress Lucero Guadalupe Sánchez López has reportedly flipped on her former flame, openly admitting that she moved drugs for her ex and the Sinaloa Cartel.
Sánchez, identified as a former legislator in Mexico, described in a Brooklyn courtroom on Thursday how she came to be in a relationship with El Chapo and how she came to be arrested for running drugs on his behalf.
Latest witness is Lucero Guadalupe Sanchez Lopez, a former state legislator from Sinaloa who became romantically involved with Chapo… and also trafficked marijuana for him. She was 21 when they first met. She's now 29 and facing 10 to life in US federal prison.

— Keegan Hamilton (@keegan_hamilton) January 17, 2019
According to the New York Daily News, the woman was arrested in San Diego back 2017. Police suspected she was a drug smuggler and money launderer. Sánchez pleaded guilty in Oct. 2018 and faces 10 years to life in prison at the age of 29. She testified Thursday that she and El Chapo had a complicated relationship.
"Until today, I'm still confused, because I thought in our relationship we were romantically involved as partners," she said. "I was trying always to keep him happy. I was confused over my feelings for him. Sometimes I loved him, and sometimes I didn't."
It was apparently "awkward."
The courtroom dynamic was…awkward.
Lucero tried hard not to look at Chapo. She has a facial tic that seemed exacerbated by her nerves. Chapo did not make eye contact w/her either. Chapo's wife, Emma Coronel, was in the room too, playing with her hair and staring forward.

— Alan Feuer (@alanfeuer) January 17, 2019
Sánchez would go on to describe times moving 400 kilos of marijuana for the cartel, the Daily News reported.
Lucero tells him at one point that she's stamped the pot w/a Heart & 4 brand.
"The heart means that I love you," she writes, "and the 4 means I bless the day you came into this world."
(Chapo's birthday is 4/4.)

— Alan Feuer (@alanfeuer) January 17, 2019
El Chapo faces a life sentence for drug trafficking charges. He denies the allegations against him, and his defense team claims that he wasn't really in charge of the operation. El Chapo is accused of smuggling cocaine, heroin, and more into the United States. Witnesses testifying against Guzman are also facing charges of their own, and the defense has maintained that they are trying to frame Guzman to better their own situations.
He faces a maximum of life in prison.
El Chapo is married to Emma Coronel Aispuro, and has been since 2007. She has been a topic of conversation throughout the trial. She was in the courtroom to hear it. Observers said she played with her hair and stared forward at nothing in particular.
Telenovela trial: I was in the courtroom this afternoon when Lucero Guadalupe Sanchez Lopez, the mistress of El Chapo, offered details of his alleged drug trafficking in testimony. She also spoke of her love – and fear – of him while his wife, Emma Coronel Aispuro, looked on.

— Tara McKelvey (@Tara_Mckelvey) January 17, 2019
[Image via Alfredo Estrella/AFP/Getty Images]
Have a tip we should know? [email protected]