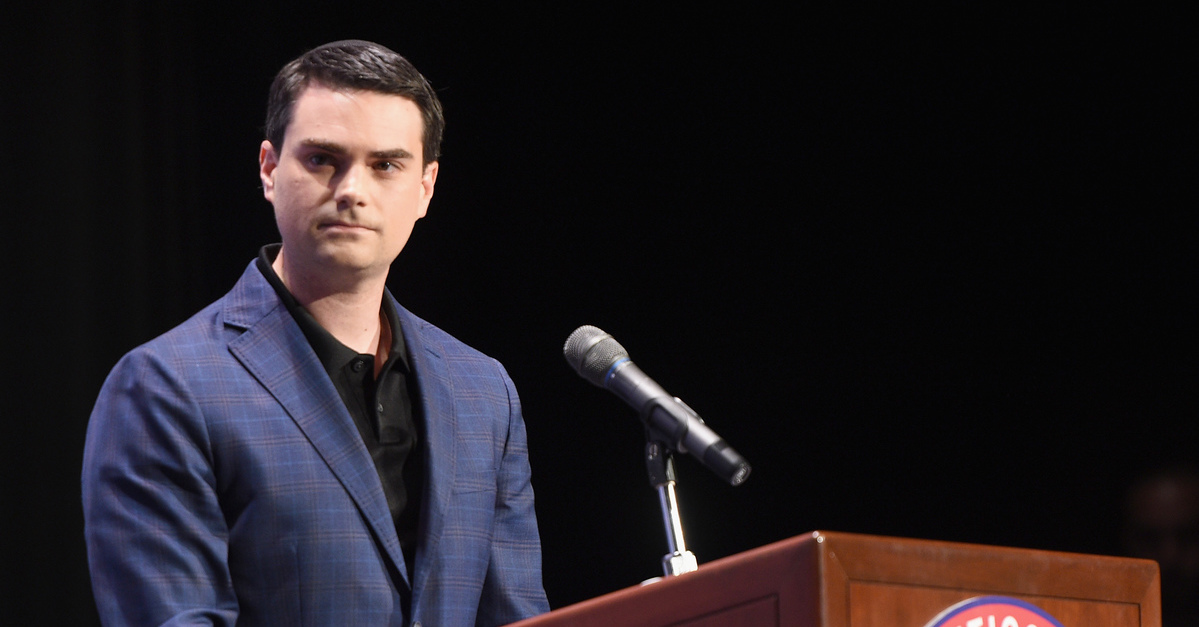 Conservative commentator Ben Shapiro challenged Democratic Socialist Alexandria Ocasio-Cortez to a debate during an episode of his eponymous program on Wednesday. But while doing so, Shapiro offered to commit a federal crime.
During the challenge, Shapiro needled his ideological opponent by suggesting she wouldn't be able to answer his questions. In order to sweeten that deal, Shapiro also offered Ocasio-Cortez a $10,000 campaign contribution if she were to accept his offer.
Shapiro said:
You've noted that you think Republicans are afraid to debate you or talk to you or discuss the issues with you. Not only am I eager to discuss the issues with you, I'm willing to offer $10,000 to your campaign today for you to come on our Sunday special.
There are at least a couple problems here. Namely, a $10,000 campaign contribution would be an express violation of federal law.
In 2002, Congress passed the Bipartisan Campaign Reform Act–commonly referred to as "McCain-Feingold" at the time of passage. This overhaul of the 1974 Federal Election Campaign Act (FECA) had two key features: (1) the eradication of so-called "soft money" (theoretically limitless funds donated to political parties because such funds were previously not subject to contribution limits) from U.S. elections; and (2) severe limitations on the ability of outside interest groups–like corporations and unions–to fund advertisements.
As part of the compromise securing the bill's passage, individual campaign contribution limits were increased from $1,000 per candidate per cycle to $2,000 per candidate per cycle–with the upper limits indexed to inflation in odd-numbered years (meaning those upper limits occasionally increase.) The law on point is codified at 52 U.S.C. 30116(b) and reads, in relevant part:
No person shall make contributions to any candidate, his or her authorized political committees or agents with respect to any election for Federal office that, in the aggregate, exceed $2,000.

i. The contribution limitation in the introductory text of paragraph (b)(1) of this section shall be increased by the percent difference in the price index in accordance with 11 CFR 110.17.
According to the Federal Election Commission, individual contribution limits for the 2017-2018 election cycle max out at $2,700 per candidate per cycle. Simple math here: Ben Shapiro offered Alexandria Ocasio-Cortez $7,300 in excess of the federal limits.
And if Ocasio-Cortez were to accept Shapiro's offer, she'd be committing a crime. Located at 11 CFR 110, the statute notes:
No candidate or political committee shall knowingly accept any contribution or make any expenditure in violation of the provisions of 11 CFR part 110. No officer or employee of a political committee shall knowingly accept a contribution made for the benefit or use of a candidate, or make any expenditure on behalf of a candidate, in violation of any limitation imposed on contributions and expenditures under this part 110.
As for Shapiro himself? According to the "Federal Prosecution of Election Offenses" handbook prepared by the Department of Justice in 2017, Shapiro's $10,000 campaign contribution–were it to be made–would open the commentator up to charges on a misdemeanor violation of FECA laws. The maximum penalty? One year in prison. Under 52 U.S.C. § 30109(d)(1)(A)(ii):
[A]ggregating $2,000 or more (but less than $25,000) during a calendar year shall be fined under such title, or imprisoned for not more than 1 year, or both.
Does the Department of Justice actually criminally prosecute campaign finance violations. Yes, they do.
Though the most likely result would probably be a hefty fine or a refund.
[image Joshua Blanchard/Getty Images for Politicon]
Follow Colin Kalmbacher on Twitter: @colinkalmbacher
Have a tip we should know? [email protected]