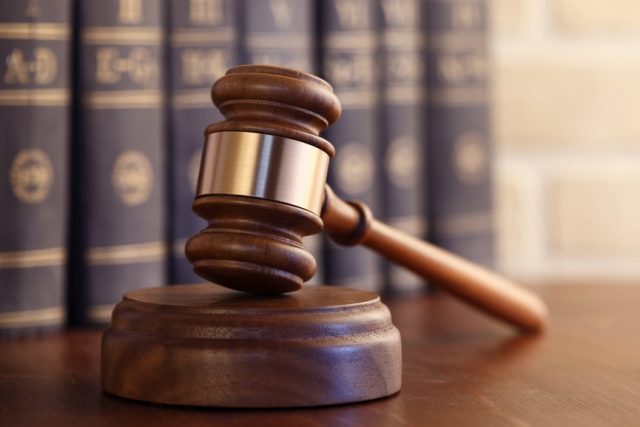 WASHINGTON (AP) — An appeals court is blocking, for now, an abortion sought by a pregnant 17-year-old immigrant being held in a Texas facility, ruling that the government should have time to try to release her so she can obtain the abortion outside of federal custody.
A three-judge panel of the U.S. Court of Appeals for the District of Columbia issued its ruling Friday hours after arguments from lawyers for the Trump administration and the teenager. The court ruled 2-1 that the government should have until Oct. 31 to release the girl into the custody of a sponsor, such as an adult relative in the United States. If that happens, she could obtain an abortion if she chooses. If she isn't released, the case can go back to court.
The judge who dissented wrote that the court's ruling means the teen will be forced to continue an unwanted pregnancy for "multiple more weeks."
The teen, whose name and country of origin have been withheld because she's a minor, is 15 weeks pregnant. She entered the U.S. in September and learned she was pregnant while in custody in Texas.
She obtained a court order Sept. 25 permitting her to have an abortion. But federal officials have refused to transport her or temporarily release her so that others may take her to have an abortion. A lower federal court ruled that she should be able to obtain an abortion Friday or Saturday, but the government appealed.
Federal health officials said in a statement that for "however much time" they are given they "will protect the well-being of this minor and all children and their babies" in their facilities.
Susan Hays, legal director of the Texas group Jane's Due Process, which works with pregnant minors seeking an abortion and had offered to help pay for the teen's abortion, said the court appeared to be "punting" the final decision on whether the teenager would be entitled to an abortion.
Brigitte Amiri, the ACLU lawyer who represented the teen in court, said in a statement that the group is "investigating all avenues to get justice for her."
"Justice is delayed yet again for this courageous and persistent young woman. She continues to be held hostage and prevented from getting an abortion because the Trump administration disagrees with her personal decision," Amiri said. "Our client and women across this country should be able to access a safe, legal abortion without federal officials stepping in to interfere."
The teenager's lawyers have argued that even a brief delay in allowing her to obtain an abortion could mean she may need a more complex procedure, one possibly not available in the region where she lives. If that happens, she could have to travel hundreds of miles to obtain an abortion, and if her case drags on she could lose her right to an abortion all together, her lawyers said. Texas law bans most abortions after the 20th week of pregnancy.
During arguments at the appeals court, Amiri told the judges that all the government needed to do was "get out of the way." An attorney appointed to represent the teen's interests had said she could transport her to and from appointments necessary for the procedure, and the federal government would not have to pay for it.
But administration lawyer Catherine Dorsey told the judges that the federal Department of Health and Human Services, which is responsible for sheltering children who illegally enter the country unaccompanied by a parent, has a policy of "refusing to facilitate" abortions and that releasing the teenager would require arranging a transfer of custody and follow-up care.
During arguments, Judge Brett Kavanaugh said releasing the girl to a sponsor seemed to be the best option. That, he said, would get her out of the facility where she is being held, allow her to obtain an abortion and leave the government out of it. But Amiri said a sponsor hadn't yet been found and that the process could take months. At least one potential sponsor has fallen through.
In a two-page order, Kavanaugh and Judge Karen Henderson, both of whom were appointed by Republican presidents, said that if a sponsor is found by Oct. 31 and the teenager released, the government agrees she "will be lawfully able, if she chooses, to obtain an abortion on her own pursuant to the relevant state law."
Judge Patricia Millett, who was appointed by a Democrat, President Barack Obama, would have allowed the girl to obtain an abortion as the lower court had ruled. Millett wrote that the girl "has already been forced by the government to continue an unwanted pregnancy for almost four weeks, and now, as a result of this order, must continue to carry that pregnancy for multiple more weeks."
[image via Shutterstock.com]
Have a tip we should know? [email protected]