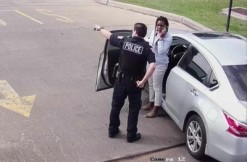 Surveillance footage shows a woman calling 911 on the officer who pulled her over, and now she claims he stepped over the line when he arrested her.
Social worker Earledreka White, 28, was driving through Houston, Texas on March 31 when a cop for the Metro Police Department stopped her for an alleged traffic violation. But White was frightened. So frightened that she called 911.
In video posted to YouTube, White can be seen standing face-to-face with the officer while she reached out to 911. She claimed the officer snapped at her when she stepped out of the car to ask what was wrong.
"He raised his voice at me, and threatened to arrest me," she told the operator. "So I'm really confused, and I would like another officer to come out here. My heart is racing. I'm really afraid."
The conversation continued for almost three minutes until the officer pulled out handcuffs, and grabbed White's phone hand to arrest her.
"This man is twisting my arm," White told the operator. "Oh my God, this man is about to tase me. Please."
This led to two days in jail, and now she's suing the Metro Police Department.
"Being pulled over is not the troubling part," White told The Houston Chronicle on Wednesday. "What happened after being pulled over is what baffles me. As I tell the dispatcher that this man is threatening to 'tase' me, he backs away, then comes back and literally tries to break my arm."
Her attorney, Zack Fertitta said the video proved that the officer was at fault.
But the Metro Police Department (an actual law enforcement arm of the local Metropolitan Transit Authority) said their officer was in the right.
"She was uncooperative, but he did everything reasonable within the law," Metro Police Chief Vera Bumpers said, according to The Chronicle. "He explained what was going on, what the violation was and that he was focused on her safety, as well as his."
In any case, The Harris County District Attorney's Office is investigating the incident, including White's charge for resisting arrest. She and Feritta said they're ready to take that criminal charge to court if prosecutors don't drop the case.
It's worth mentioning that White is an African American. This incident comes amidst a nationwide controversy: The friction between law enforcement and people of color, especially black people.
–
Follow Alberto Luperon on Twitter (@Alberto Luperon)
Have a tip we should know? [email protected]