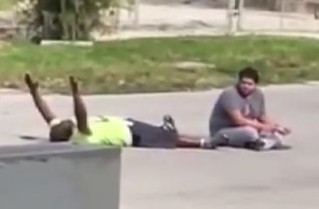 Remember that therapist? The one who was shot by a police officer after he put his hands up? Yep, he's suing now. Charles Kinsey is taking the cop to court, The Miami Herald reports. His story first caught national attention in July when police responded to a report of a guy with a firearm. Instead, they found an autistic man, and Kinsey, his caretaker.
Holding his hands up, Kinsey pleaded with the armed cops, telling them that the apparently angry autistic man was only holding a toy truck.
The incident was caught on tape:
But something happened. Kinsey was shot in the leg. The officer involved, Jonathan Aledda, later said the shooting was justified: He meant to shoot the autistic man in order to protect Kinsey.
That wasn't a good enough excuse for Kinsey, who filed his lawsuit Wednesday in the Florida Southern District Court system. He's claiming the officer used excessive force, and didn't try to stop him from bleeding, even after cops realized neither Kinsey nor the autistic man had any weapons.
"By failing to render aid, Officer Aledda allowed Mr. Kinsey to unnecessarily bleed out on the ground for a significant period of time, which further exasperated Mr. Kinsey's recovery time for his injuries," the lawsuit, obtained by the Herald, stated.
Another officer at the scene of the shooting, Commander Emile Hollant, has been cleared of wrongdoing by the Florida Department of Law Enforcement, NBC New York reports. He'd been suspended after apparently giving a conflicting statement about the shooting. But the FDLE investigator in charge said Hollant didn't lie, or intend to mislead anyone.
The story of Kinsey, who is black, is another chapter in a long-running controversy: The friction between law enforcement and people of color. It happened mere days after the shootings of Alton Sterling and Philando Castile by police, as well as the horrific ambush of five Dallas police officers during a Black Lives Matter rally by a lone gunman who was, for lack of a better term, protesting those deaths.
[Charles Kinsey via cell phone video screengrab/Hilton Napoleon]
–
Follow Alberto Luperon on Twitter (@Alberto Luperon)
Have a tip we should know? [email protected]