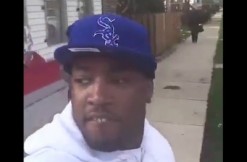 A recent viral video—in which a man is shot while he took a selfie on his phone—is probably the real thing, Chicago police announced Friday.
"We are confident [it] isn't a hoax," Anthony Guglielmi a police spokesperson said in a statement obtained by Fox 32.
Guglielmi said the victim is 31-year-old Brian Fields, who is in critical condition. Investigators are waiting for him to heal so they can question him about how he ended up that way.
The shooting reportedly happened Thursday in the South Side of Chicago. In the video, Fields goes silent, and looks out the side of the video frame before gunshots are heard, and he drops his phone. The gunman runs up, and standing over the phone, firing multiple rounds from a handgun. Fields is off-camera at this time. The Chicago Tribune confirmed he was shot in the face and groin.
This video is intense and tough to watch when you know what's about to happen. No displayed gore or anything, though.
Before the shooting, Fields can be seen scanning the area.
"I can't be out here without the store being open," he says. "I need somewhere to duck and hide for cover."
Professor Desmond Patton of Columbia University suggested to Fox 32 that the attack wasn't a surprise to Fields.
"The fact that he mentions that he needs access to the store that was previously not open in order to duck and dive meant that he had some awareness of what could potentially happen," he said.
Police are vague for now, but suggested the shooting was gang-related, and that Fields was targeted. It could be that the motive originated from a social media spat.
"More and more of these incidents either originate or escalate from some type of activity that is on a social media platform," the police statement stated.
No specific motive has been established, though.
[h/t Fox 32 Chicago]
[image via YouTube screengrab]
–
Follow Alberto Luperon on Twitter (@Alberto Luperon)
Have a tip we should know? [email protected]