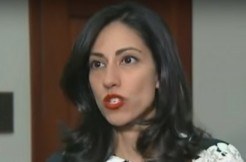 A top aide for Hillary Clinton, Huma Abedin, called the fact that her emails were out there for anybody to see —  "terrifying." Over the last several months, the State Department released thousands of emails from Clinton's private server, including to and from Abedin.
"I would be probably be mortified [if I were my boss]," she told interviewers at the Call Your Girlfriend podcast for a Thursday episode, when asked how she felt about the e-mails being out there for the public to see. "I have no idea. I haven't read any of them."
Abedin is the vice chairwoman of Clinton's presidential campaign. Politico called her "deeply trusted and highly influential." One of the Call Your Girlfriend interviewers even called her the candidate's "right-hand woman." So clearly, some of the e-mails in the Democratic candidate's long-running scandal will involve her.
One of the emails, released by the State Department, was a 2009 exchange between Abedin and Clinton from 2009, when the then-Secretary of State was a little confused by a fax machine. .
LawNewz founder Dan Abrams said in January that Clinton didn't break the law by using this private email server, at least based on what they knew back then. However, Chris White, one of our editors, argued shortly after that the former Secretary of State can absolutely be pinned with at least one misdemeanor charge. If so, the decision to privately host those e-mails is a career-threatening mistake.
The e-mails have brought more exposure than Abedin expected. "I am behind the scenes," she said when asked about her job. "You took the words out of my mouth. I confess that is intentional. I prefer to be behind the scenes and stay behind the scenes."
[h/t The Hill]
[screengrab via Fox News]
–
Follow Alberto Luperon on Twitter (@Alberto Luperon)
Have a tip we should know? [email protected]