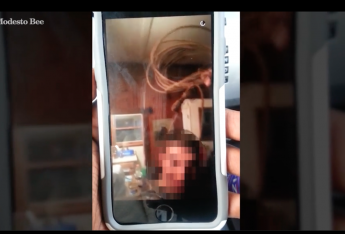 Two 16-year-old California high school students were arrested on Monday in connection with the making of a racially charged Snapchat video that authorities say included a death threat directed at an African-American student at the high school.
The brief video was allegedly posted on March 25 when the high school was on Easter break.  It features a white teenager with what appears to be a hangman's noose around his neck saying, "You must die motherf***er."  The student with the noose around his neck and a second student who is apparently holding the camera both laugh as one shouts out the name of an individual who police say is an African-American classmate of the students at Central Catholic High School.  The video then cuts to a first-person angle of a handgun being fired.
The Modesto Bee identified that student as Noah Porter, 18, who reportedly gave the paper permission to use his name.  The paper also obtained a copy of the video that has been posted online.
WATCH:
Have a tip we should know? [email protected]