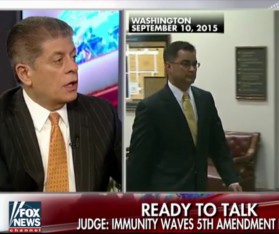 As LawNewz reported last night, the DOJ has secured the cooperation of former Clinton aide Bryan Pagliano, the man who originally set up the private e-mail server in Hillary Clinton's New York home back in 2009.
Judge Andrew Napolitano appeared with Ainsley Earhardt on Fox and Friends Thursday morning to discuss last night's breaking news and Judge Nap did not hold back, immediately saying, "This is enough to shake the American political system to its foundation."
Judge Nap went on to say that immunity is only given to someone that is going to be called to testify against someone higher up the "totem pole" of the investigation.  He continued by saying that Pagliano would only be called to testify if the DOJ had already decided to convene a grand jury to indict someone.
Judge Nap would not go as far as to say that Hillary Clinton was the"someone" that the DOJ was working to indict, however, he did say if Clinton was indicted, "it will shake the Democratic Party and American political establishment to the core."
WATCH: 
[h/t Fox News Channel; image via screengrab]
Have a tip we should know? [email protected]