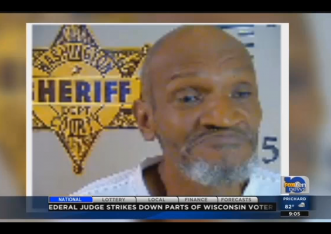 A homeowner in Washington County, AL is in jail after police say his elaborate plan to capture a burglar went terribly wrong on Friday night.
"I would say this is a very unusual case," Washington County Sheriff Richard Stringer told WALA. 
Very unusual, to be sure.
Stringer told the news station 68-year-old Nathaniel Johnson was fed up with his home getting robbed so he decided to make sure it was not going to happen again.  Stringer said Johnson devised a plan to make it appear as though no one was home at his house on Friday night and then waited for the burglar to show up.
Around 10:00 PM the burglar reportedly showed up and broke the lock, only to find Johnson was waiting for him.  Stringer said Johnson then jumped on the burglar, tied his hands behind his back and took him to a tree in the front yard.
He then "began to tie him to the tree still in the standing up position," according to Stringer.  Using electrical wire, clothesline and masking tape, Johnson then tied the burglar to the tree.  Stringer explained Johnson used "multiple layers of masking tape that he had wrapped around [the burglar's] mouth and all the way around his head."
According to the report, Johnson left the burglar tied up to the tree and went to a neighbor's house to call the authorities.  By the time sheriff's deputies arrived, the burglar died.  He was identified as 31-year-old Cleveland Gully.
The cause of death is unknown, pending further investigation.  However, Sheriff Stringer said Gully's body showed no signs of "lacerations or punctures."  In fact, Sheriff Stringer appeared somewhat sympathetic toward Johnson.
"I don't think he was intending to kill the intruder, I think he wanted to capture him and have him arrested," Stringer said.
Johnson has not been charged with a crime, although he is currently being held in the county jail on a 72-hour hold, pending further forensic investigation into Gully's death.
WATCH the report HERE:
Have a tip we should know? [email protected]