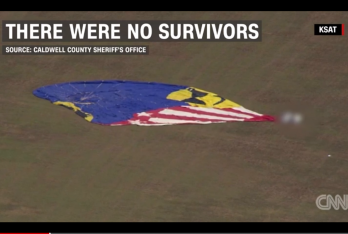 The National Transportation Safety Board (NTSB) reportedly began warning two-years ago of a risk for a "high number of fatalities in a single air tour balloon accident" if the Federal Aviation Administration (FAA) did not enact stronger regulations on hot air ballooning.
USA Today reports the latest warning came last March in a letter from the NTSB criticizing the FAA's lack of action, despite 25 hot air balloon crashes between 2014 and 2016.  "We are concerned that, if no action is taken to address this safety issue, we will continue to see such accidents in the future," the letter states, according to the newspaper.  The FAA rejected the recommendations, citing low risks associated with hot air ballooning.
The issue of hot air balloon regulation is likely to receive renewed focus in light of the deadly accident on Saturday in Austin, TX.  At least 16 people were killed after a hot air balloon apparently caught fire and crashed yesterday in the deadliest hot air balloon accident in U.S history.
The deadly hot air balloon crash on Saturday near Austin, TX that may have killed as many as 16 people will almost certainly bring renewed attention to the issue of hot air balloon safety and regulations.  The accident on Saturday was the deadliest hot air balloon accident in U.S. history.
Robert Sumwalt, a member of the NTSB, told the newspaper investigators are looking into the cause of the crash.  Late last night, the NTSB also put out a tweet stating a "Go-Team" was en route to the crash scene and they expected to arrive in Texas by mid-morning on Sunday.
The deadly crash occurred early on Saturday morning in a relatively open area, although a row of large high-capacity power lines can be scene in videos of the crash site.  It is still unclear what caused the crash, but a witness named Margaret Wylie said she heard a "pop" noise that caught her attention, followed by a fireball.
The report states there were a total of 760 hot air balloon accidents between 1964 and 2013, but only 67 involved fatalities.  In 2014, just a month after the initial warning from the NTSB, three people were killed in Virginia after a hot air balloon struck a power line.
[image via screengrab]
Have a tip we should know? [email protected]