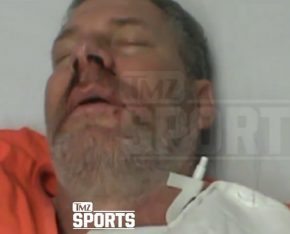 Former Major League Baseball player Lenny Dykstra filed a $15 million lawsuit claiming several deputies beat the snot out of him inside a Los Angeles County Jail back in 2012.  Now, he is claiming video taken on the night of the alleged incident proves his case.
The celebrity gossip website TMZ obtained a copy of the lawsuit Dykstra filed in 2014 that claims six L.A. County Sheriff's Deputies pummeled him inside the lockup in 2012 simply because they did not like him. An amended complaint filed in 2015 alleges a deputy whistled "Take Me Out to the Ball Game" during the beatdown that left the former MLB star with teeth "broken out of his skull" and brain damage.
Dykstra was locked up at the time on bankruptcy fraud charges.
On Monday, Dykstra's lawsuit was back in the news after his legal team apparently found video they say was taken on the night of the alleged beating.  It is not video from inside the jail, rather his legal team says it was taken at a nearby hospital after the alleged beating went down.
WATCH:
The video shows what appears to be a heavily medicated Dykstra, handcuffed and strapped to a hospital gurney. The voice of a female deputy can be heard as she points out bruising and other marks on various parts of Dykstra's body.
There also appears to be dried blood on coming out of his nose. According to TMZ, Dykstra's legal team is calling the hospital video the "smoking gun" that proves the allegations made in the lawsuit.The L.A. County Sheriff's Department has always declined to comment on the allegations, citing the pending litigation.
[image via: Debby Wong / shutterstock]
Have a tip we should know? [email protected]