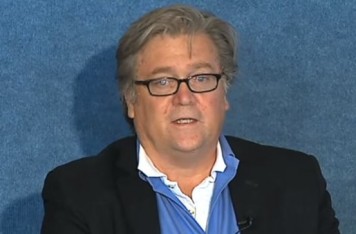 President-elect Donald Trump's decision to appoint Stephen Bannon to a high profile White House position angered University of Denver law professor Nancy Leong so much that she decided she could not stay quiet.
Sensing others in the legal profession shared her outrage, Leong drafted a letter that expressed her objections and frustrations with the Bannon appointment and posted it online for others to sign.
What happened next shocked her.
Leong's letter, drafted with the input of her colleagues Lindsey Webb and Robin Walker Sterling, received more than 10,000 online signatures in just over 48 hours.
"The response has been overwhelming to the point that I really can't keep up," Leong told Bloomberg News. She said opposition to Bannon is coming in from all sides of the political spectrum.
Bannon's critics have made claims that he is too closely aligned with "alt-right" groups and white nationalists, something he has vehemently denied.
Some of Bannon's former co-workers at Breitbart News, including well-known conservative Trump critic Ben Shapiro, have somewhat come to Bannon's defense in response to claims by the most aggressive critics who accuse him of supporting white nationalists and racists.
Shapiro wrote an article last week saying, although he disapproves of some of Bannon's choices, "the allegations [many have] made about Bannon are unsupported by evidence."
[image via screengrab]
Have a tip we should know? [email protected]