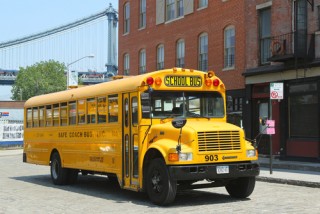 Every year, as children head back to school and the early September breeze becomes crisp, I brace myself for the inevitable discomfort that 9/11 observances/memorials/rememberances will bring. Some years, I have delved into the television coverage, the families' stories of loss, and personal photos as I reflect on own time working in the World Trade Center. Other years, I have purposely avoided the media, feeling unwilling to engage in the emotional ordeal that is remembering.
Now, though, I know enough to anticipate the double side of 9/11 reporting. With each tale of personal loss or profound heroism, there is a corresponding story about how some group of people isn't appropriately honoring the solemn date. Occasionally, the news will call our attention to something truly repugnant, such as the San Antonio mattress company that held a "Twin Towers Sale." But most of the time, the sacredness of 9/11 is invoked in ways that are misguided at best.
This year's coverage is bound to include the "bombshell" story that New York City has decided to close its schools on September 12 to observe a Muslim Holiday. Conservative television networks will trot out 9/11 widows and fire chiefs to debate the extent to which New York's school closing for Eid al-Adha spits in the face of Americans who are still grieving a decade and a half after the terror attacks. And now that Donald Trump's Islamophobic campaign platform has helped normalize hatred for all things Muslim, we can expect more than a few people to characterize the observance of a sacred holiday as "Muslims Celebrating 9/11." I also look forward to watching right wing talking heads twisting themselves into pretzels in order to blame President Obama for the New York City school calendar.
This year, New York City public schools began one day earlier than usual, and will close on September 12 in observation of Eid al-Adha (a holiday whose date changes annually). Eid al-Adha is a major Muslim holy day, which honors the willingness of Ibrahim, or Abraham, to sacrifice his son Ishmael as an act of submission to God's command. But let's be clear: decisions to close schools for religious holidays aren't really based on religion. They're pragmatic decisions with a dash of politics. Districts must take their demographics into account when planning their calendars; failure to do so creates economic waste and educational chaos. Holding classes on days when many teachers and students would exercise their rights to celebrate a religious holiday simply doesn't make sense. Viewed through a simple lens of predictable absences, it probably makes more sense to close schools for days such as Eid al-Adha than it does for secular holidays, such as Veteran's Day, Columbus Day, or Presidents' Day. Let's face it — not a lot of families would stay home and prepare for a Columbus-themed celebration if schools remained open.
City leaders have a duty to serve their citizens — and as demographics change, so too must things like school calendars. New York City schools have closed for major Christian and Jewish holidays for decades; failing to do so for the city's large (more than eleven percent) Muslim population sends a message of disenfranchisement that is as inappropriate as it is impractical.
New York City Council Speaker Melissa Mark-Viverito made the following statement last year when the 2016-17 school calendar was adopted:
"Muslim New Yorkers are a vital part of this City. With almost 1 million Muslims across the five boroughs, New York City is home to a strong, vibrant and fast-growing Muslim community. Today, we have taken bold steps to advance our values of diversity and inclusion. By adding two Muslim holidays to the DOE school calendar, New York City is affirming that all students, including Muslim youth, are an integral and accepted part of our City."
And for Mayor Bill de Blasio, the opportunity to make a common-sense adjustment to New York City's school calendar couldn't have been more of a political gift. What was likely motivated in large part by functional scheduling concerns became a "commitment to diversity" and an enticing campaign promise to the many Muslim voters of New York.
"We made a pledge to families that we would change our school calendar to reflect the strength and diversity of our city. Hundreds of thousands of Muslim families will no longer have to choose between honoring the most sacred days on their calendar or attending school. This is a common sense change, and one that recognizes our growing Muslim community and honors its contributions to our City," said Mayor Bill de Blasio.
It's always nice when the politically-expedient move just happens to be inclusive and respectful of other cultures.
Most likely, public reaction to New York City's school closing will follow political lines. Many liberal voters will celebrate a victory for diversity while many conservatives ones will lament the erosion of patriotism. It is my hope that people of all political convictions see this for what it really is – a functioning of local government in the truest sense. A large population within a large city exercised its voice. Government heard its concerns and addressed them in a way that was efficient for the entire city. As a result, an often-marginalized group received respect at the hands of its leaders; that respect did not disadvantage anyone else. All government really is local, and sometimes, it actually does work.
[image via shutterstock]
This is an opinion piece. The views expressed in this article are those of just the author.
Elura Nanos - Columnist & Trial Analyst, Law & Crime; CEO Lawyer Up