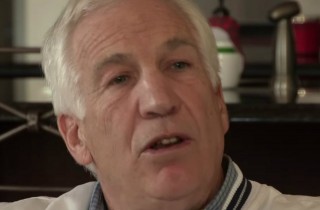 Jerry Sandusky is serving a decades-long sentence for 45 counts of sex abuse. Is it possible that it's all a mistake? Author Mark Pendergrast thinks so, according to a piece he wrote for The Crime Report. How? Due to the heavy use of repressed memories in the victims' accounts.
Pendergrast, whose work has been reviewed by The New York Times, and who has appeared on CNN and The Today Show, interviewed several of the people who claimed that Sandusky abused them, as well as one of their therapists. He also cites court transcripts of witnesses' testimony. In quite a number of cases, he said, stories changed over time, with several victims initially insisting that nothing had happened.
The author of Victims of Memories, a book about accusations of sex abuse, Pendergrast says that leading scientists told him that "Freud's theory of repressed memories of sexual abuse was wrong." People may not think about certain events, but they don't completely forget that they happened, he claims.
One witness, Dustin Struble, told Pendergrast that two therapists told him he might have repressed memories. Before getting treatment, Struble didn't remember any abuse, and considered Sandusky a friend. He suffered from depression, and a therapist suggested it may have been due to carrying suppressed memories.
The first victim to accuse Sandusky, Aaron Fisher, had first only said that he and the former football coach wrestled, fully-clothed, Pendergrast writes. But over the course of years of therapy, he eventually said that Sandusky forced him into a sexual act. That same therapist, Mike Gillum, treated other witnesses in the case.
Pendergrast says that repressed memory therapy has been discredited, and can generate false memories of incidents that never actually took place. He also claims that leading questions from police were used to draw out statements, and cites one witness who claimed that police put words in his mouth and took statements out of context.
Even a well-known eyewitness account wasn't what it seemed, he writes. Mike McQueary is the one who claimed that he witnessed Sandusky engaged in a sexual act with a boy in a shower, but he didn't always say that. According to an ESPN report, McQueary actually heard slapping sounds and a running shower, and assumed the sounds were those of sexual activity. He then saw a reflection in a mirror of Sandusky behind a boy who was facing the wall in the shower. In a later statement, McQueary said that he reported "fondling" when he told football coach Joe Paterno what he saw. During the trial, McQureary said he saw Sandusky and the boy with his own eyes — not just in the mirror — and that he saw Sandusky's midsection moving.
The boy in that story? At first, he said that he and Sandusky were slap boxing, and denied that any abuse had occurred. He later joined the other victims, although he didn't testify at the trial, remaining anonymous while the case was going on.
Mediaite columnist John Ziegler has written extensively about the case, and has spoken with Sandusky about it. Ziegler tried to catch Sandusky lying, but ultimately didn't. Ziegler characterized the evidence in the case as "contradictory testimony for which each accuser was paid millions of dollars." Regarding Pendergrast's take on what happened, he told LawNewz:
I'm glad Mark has finally come public with the results of his investigation into this matter. While my opinion differs slightly on the role "repressed memory therapy" played in this fiasco, we both agree that the only way truth & justice can prevail is for there to be a new trial.
Sandusky's attorneys are indeed working to get a new trial, and are seeking to have the conviction vacated. They claim that Sandusky's trial counsel did not present necessary evidence that could discredit the repressed memory therapy of the accusers. If the judge sides with Sandusky, there could be a new trial.
[Screengrab via The New York Times]
Have a tip we should know? [email protected]