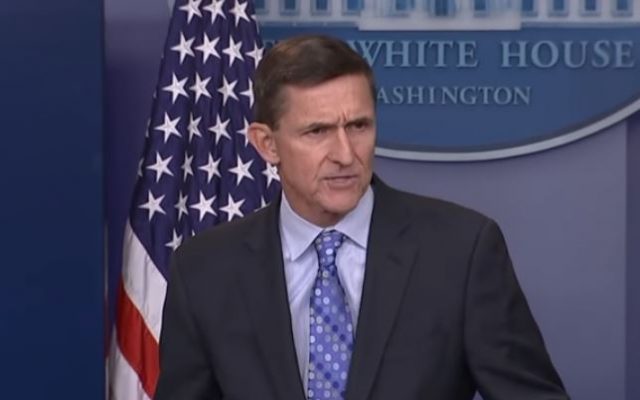 Michael Flynn may have thought his worst days were behind him when he was fired after only 24 days as National Security Advisor, but it seems that things are about to get way worse, and really fast. The House Oversight Committee just finished its review of classified documents relating to Flynn, and it sure sounds like Flynn broke the law.
First, Flynn accepted payments exceeding $65,000 from companies linked to Russia in 2015 – $45,000 of which was Flynn's speaking fee paid by RT, the Russian government's English language television channel. This is a problem. Under federal law, former military officers need to get approval for foreign employment. And while there is a charming photo of Flynn sitting next to Vladimir V. Putin at the RT gala following Flynn's speech, there isn't any paper trail of Flynn's having asked permission before his keynote.
The House Oversight Committee was not amused by Flynn's little lapse in paperwork. Representative Jason Chaffetz, Republican of Utah and chairman of the House Oversight Committee, had some harsh words for the short-lived National Security Advisor today:
"As a former military officer, you simply cannot take money from Russia, Turkey or anybody else. And it appears as if he did take that money. It was inappropriate, and there are repercussions for a violation of law."
Flynn's failure to request the necessary permission is just the prelude to the theme, though. In January 2016, while Flynn was applying for renewal of his security clearance, he filled out form SF-86. That would have been the time for him to disclose the whole $45K-for-a-Russian-speech thing; yet, any mention of the speech was conspicuously absent from the form. This is, to put it mildly, not good for Flynn.  Security clearances are serious business (just ask Hillary Clinton).   If Flynn purposely left mention of the Russian speech off his clearance form, he committed a crime that leaves Emailgate in the dust. LawNewz.com spoke today with attorney Bradley Moss, a national security expert, who explained:
"The failure to properly report the RT payment on his SF-86 is potentially the most significant issue for Flynn from a criminal context. Knowing and willful failure to provide relevant and material information on security paperwork is a felony under 18 USC 1001, punishable by up to 5 years in prison."
No Christie-esque-defense of, "I couldn't possibly be expected to know every little thing that happens on my watch," is likely to help Flynn on this one, either.  As a career military official, Flynn would likely have been through the security clearance process many times. Moss continued:
"Correctly and comprehensively filling out an SF-86 is one of the most basic parts of obtaining a security clearance, and someone like Flynn would have had extensive experience with the document. He either was sloppy or deliberately didn't list the information; either is a problem for him."
LawNewz.com also spoke with former NCIS Special Agent John Snedden, who has conducted many security-clearance interviews. Mr. Snedden explained that the process of obtaining complete background checks is exhaustive, and unlikely to leave something like Flynn's $45,000 Russian speech unnoticed:
"During the security clearance process, every one of his foreign trips should have been listed on his paperwork. He would need to have listed why he was there and what he was doing. He definitely should have disclosed that he had a speaking engagement in Russia. During the interview process, he would have been asked questions about foreign travel, foreign connections, and foreign financial interests. Those questions should have evoked a response from him and those responses should have all aligned with what he listed on his paperwork. Any time the subject of an investigation fails to disclose foreign connections, that subject opens himself up to threats, coercion, or blackmail."
The speech for RT wasn't Flynn's only questionable work for a foreign state. After his unceremonious exit from the Trump cabinet, Flynn was paid a cool half-million to lobby on behalf of Turkey in a dispute with the United States government. He did file papers to register as a foreign agent for that work – he just didn't file them on time.
Failure to follow rules seems to be Flynn's modus operandi. As I've written before, Flynn apparently installed a forbidden internet connection in his Pentagon office, allegedly gave classified information to NATO allies without authorization, and reportedly snuck out of the CIA station in Iraq when he deemed the required approval too "insane" for him to seek.
The million-dollar question (or at least the $45,000 question) is, "what happens to Flynn now?" The answer will depend quite a bit on who's answering. White House Press Secretary Sean Spicer tried his best to minimize Flynn's behavior and the lack of White House accountability about it. At today's presser, Spicer complained, "to ask for every call or contact that a national security advisor made is pretty outlandish, if you will." For the record, the House Oversight Committee wasn't asking or every communication – just the ones that might have shown Flynn following the law.
Neither Congress nor the American people are likely to share the White House's willingness to excuse Flynn's felony deceit arrogance.  As Andrew P. Bakaj, Managing Attorney of Compass Rose Legal Group, and national security law expert explained:
"Given that there are multiple ongoing investigations, perhaps even a criminal investigation, the false official statements can be used as leverage by a federal investigator and the Department of Justice to obtain a guilty plea to a lesser crime or, in the alternative, to compel cooperation in the event he's not the 'biggest fish' in an investigation."
When that leverage will be used, by whom, and for what purposes remains to be seen – but it's safe to say that we haven't heard the end of Flynn and his SF-86.
This is an opinion piece. The views expressed in this article are those of just the author.
Elura Nanos - Columnist & Trial Analyst, Law & Crime; CEO Lawyer Up