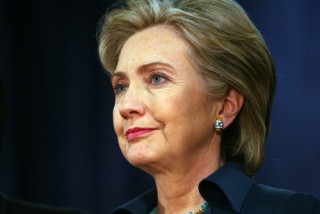 A Center for Responsive Politics survey of top individual donors to joint fundraising committees discovered that liberal donors, loyal to Hillary Clinton, are outspending conservatives by quite a bit. The non-partisan organization, which runs the website opensecrets.org,  tracks campaign spending, and found that those individual megal donors mostly sympathetic to the former Secretary of state have given $12.3 compared to conservatives' 10.3 million. They also found that the majority of Hillary supporters to these fundraising committees are made up of Wall Street/finance insiders.
Center for Responsive Politics' Will Tucker writes:
Unsurprisingly, the industries giving to the Hillary Victory Committee closely track with industry donors to her supportive super PACs. Securities and investment — Wall Street — has given the most to that committee, nearly $3.5 million. Wealthy individuals who list a foundation or nonprofit as their employer, who together make up part of the non-profit institutions industry, have given $1.6 million.

That makes Clinton's JFC like the super PACs that support her: Clinton can claim popular support for her campaign from law firms and the education industries, but a look at her big-money groups shows Wall Street and the wealthy dominate the giving.
Joint fundraising committees allow candidates to team together with party committees (like the DNC or RNC) and PACS to raise  money. The advantage? Opensecrets.org reports, "Participants in the JFC can't take any more money from a donor than they could if the money was given directly, but this vehicle allows a donor to write one very large check."
The Hillary Victory Committee has raised nearly $27 million. The top three donors to the pro- Hillary committee all hail from the financial industry and include HBJ investment, Pritzker Group, and Apercen Partners.
The top five individual contributors who have donated to JFC's are also all Democrats. Those include web mogul Sean Parker, billionaire's James and Mary Pritzker, Haim Saban, real estate investor Wayne Jordon and sculptor Jo Ann Kaplan. Parker gave the largest donation of $725,200, which mostly went to a committee that supports Clinton.
That's not to say Republican donors aren't taking full advantage of joint fundraising committees. Republicans actually have a larger number of JFC's when compared to Democrats. However, they don't seem as coalesced around one candidate.
The top Republican JFC is a group called Team Ryan, which is run by House Speaker Paul D. Ryan. They've raised about $23 million.
"After he became speaker, some conservative donors whose favored presidential candidates had lost, threw money in Ryan's JFC. But currently, Republicans lack a candidate at the top who, like Clinton, is pestering the prosperous to support not just his presidential bid but the efforts of others to maintain control of the House and Senate, " Tucker writes.
Have a tip we should know? [email protected]
Rachel Stockman - President / On Air Host