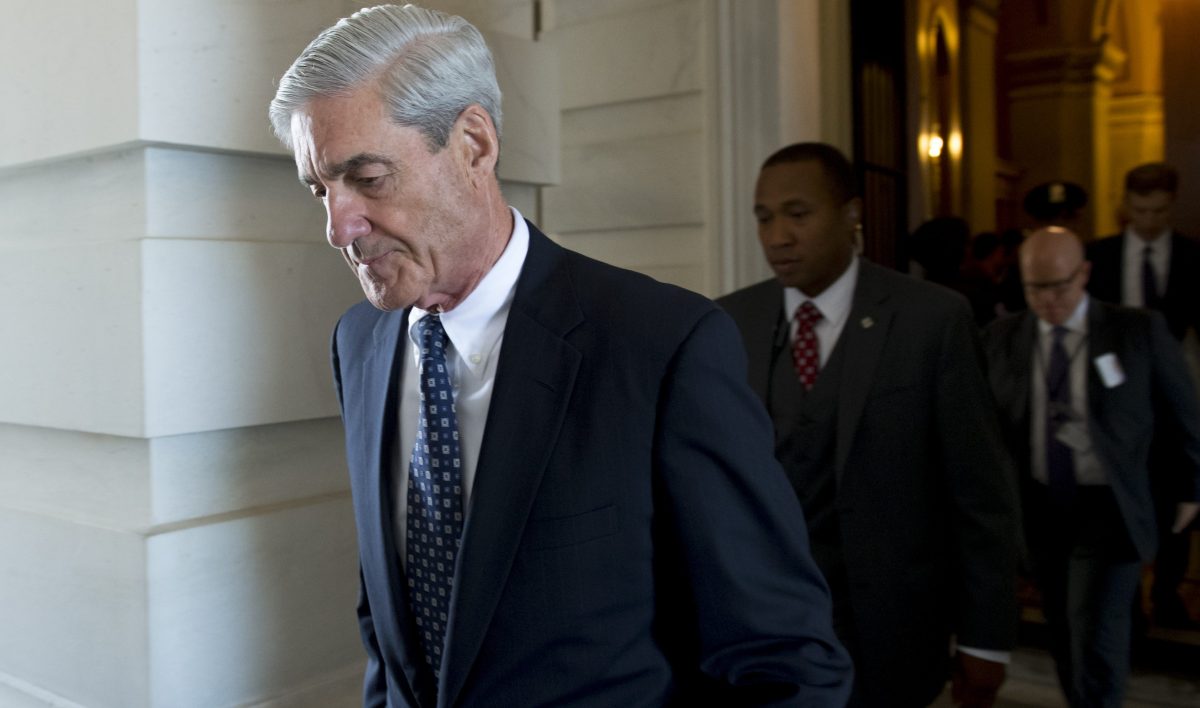 On Monday, The New York Times published a list of questions special counsel Robert Mueller wanted to ask Donald Trump in that interview we're all anxiously awaiting. While Trump's answers will doubtlessly make headlines some time in the future, most of the questions were pretty predictable. What did Trump know about Ambassador Kislyak and Michael Flynn? Why did Trump fire Flynn and Comey? What's Trump's take on Jeff Sessions' recusal? What crossovers existed between the Trump campaign and the Russian government?   No surprises.
However, nestled dead center in the inquiries about campaigns and Russia is this potentially Trump-toppling land mine:
What communication did you have with Michael D. Cohen, Felix Sater and others, including foreign nationals, about Russian real estate developments during the campaign?
The message was simple, but clear: "Mr. President, we'll be looking into any possible shady real estate with which you may have been involved."  Boom.  While everyone is distracted with weaknesses in obstruction charges, my guess is that Mueller's team has been hard at work checking out the Foreign Corrupt Practices Act; that's the one that makes it a crime for a United States company to act with willful blindness toward the corrupt activities of a foreign business partner.
Speaking of "corrupt activities of a foreign business partner," two weeks ago, Peter Fritsch and Glenn R. Simpson the founders of the research firm Fusion GPS, authored a New York Times op-ed. In it, they advanced a rather bold hypothesis: that the documents seized from Michael Cohen's office might demonstrate a disturbing pattern of questionable real estate investors using Trump-branded properties to launder dirty money.
Fusion GPS had been hired (first by Republican, later by Democrats) to do opposition research on Donald Trump. According to Fritsch and Simpson, that research revealed a pattern of "Trump projects [relying] heavily on foreign cash — including from wealthy individuals from Russia and elsewhere with questionable, and even criminal, backgrounds." And while the two stopped short of accusing Trump of having direct knowledge of any criminal money-laundering, they did provide several specific examples of Trump's having deal with "individuals whose backgrounds should have raised red flags."
One such individual just happens to be Felix Sater, whose firm, the Bayrock Group, worked with Trump in the mid-2000s to build the Trump SoHo in Lower Manhattan; Sater, a Russian émigré, has a seriously crooked past.
In 1998, he was charged in a federal money laundering and stock manipulation case that was filed in secret and is still under seal. Later, he pleaded guilty to racketeering in a $40 million stock fraud scheme involving 19 organized crime figures from four Mafia families. There is also plenty of conjecture about a investments in Trump SoHo related to a Kazakh financier recruited by Bayrock who was acussed in a $55 million money-laundering scheme.  That case was settled without an admission of guilt, but left many questions yet unanswered.
Downtown drama isn't the only major legal issues to which Fritsch and Simpson connected Trump's businesses. They recounted the story of Sunny Isles Beach, where more than 60 Russians spent $100 million on Trump condos in "Little Moscow" in South Florida. That little deal just happened to include Russian government officials and a big-time accused Ukrainian money-launderer. There was also the reminder of Alexandre Ventura Nogueira, the accused Brazillian money launderer involved with Trump's first foray into international hotels. Last year, Nogueira told NBC News  that he sold half his Trump condos to Russians, including some connected to the Russian mafia, and remarked that some of his clients had "questionable backgrounds."
Fritsch and Simpson mentioned other similar areas of concern too – from dealings with a"notoriously corrupt" son of an Azerbaijan billionaire to a partnership with a convicted Malaysian stock swindler. The Fusion principals were clear to raise the Trumps' expected defenses – that they are are nothing more than "passive partners" having only "minimal dealings" with these sinister characters – but did make a compelling point about following the money:
"Mr. Trump's limited public disclosures reveal his company has earned millions from licensing fees, a percentage of property sales and management fees in foreign projects. And the Trump family was sometimes personally involved in everything from a project's design to its décor."
Certainly, the information publicly available is too sketchy still to conclusively prove that anyone within the Trump Organization is guilty of money-laundering or specific violations of the FCPA.  But one thing is for sure — a statute that criminalizes not only intentional acts, but also "willful  blindness" to the crimes of others is one that would rightfully create panic within the Trump ranks.
This is an opinion piece. The views expressed in this article are those of just the author.
Elura Nanos - Columnist & Trial Analyst, Law & Crime; CEO Lawyer Up