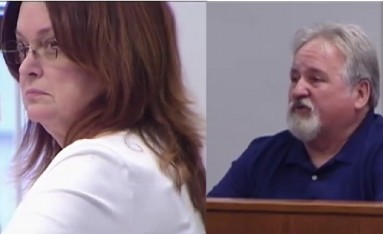 A longstanding dispute between ex-lovers over a $1 million lottery ticket went back to trial on Monday in Sanford, FL, and it will be up to a jury to decide whether they had an oral agreement to split the winnings 50/50.
In 2007, Lynn Poirier claimed the $1 million prize in the Florida Lottery game "Millionaire Raffle" but refused to share the winnings with her live-in boyfriend, Howard Browning.  So, Browning sued her, claiming they had a running oral agreement that if either one ever won the lottery, they would split it 50/50 with each other.  A judge dismissed the original case back in 2012, but Browning refused to give up and successfully persuaded the Florida Supreme Court to order a new trial last spring.
The new trial started on Monday and Browning took the stand to tell his side of this bizarre story.  According to his testimony, the winning ticket was purchased at a convenience store next door to a Red Lobster, where they had just enjoyed a dinner date.  Browning claims he actually paid for the ticket by giving Poirier the $20 she used to purchase the winning ticket.
After the drawing, Browning said she disappeared for about a month, refusing to take his calls and then suddenly showed back up at the home driving a brand new Chevy pickup.  Browning testified that he repeatedly tried to talk with Poirier about his half of the money, but she continuously refused, at which point he got fed up and sued her.
Poirier, on the other hand, tells a much different story, insisting that she paid for the ticket and they just happened to bump into each other at the store that night.  According to her, they had already broken up prior to the purchase of the ticket and she had become engaged to another man.  Browning  did not deny that she received an engagement ring from another man prior to the purchase of the ticket, but he said he and Poirier continued to have sex after she received that ring and they continued to live together.
There is no telling how the jury will decide this case, but if the testimony keeps up like this they will no doubt be entertained for the duration of their service.
[h/t Orlando Sentinel; image via screengrab]
Have a tip we should know? [email protected]