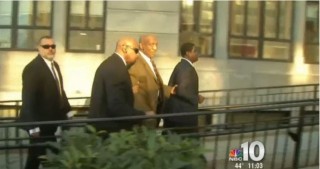 Beth Karas is LawNewz.com's Editor-at-Large. She is currently in a Pennsylvania courtroom at Bill Cosby's hearing about whether a non-prosecution agreement is enforceable. She sent in the details for this report:
Former District Attorney Bruce Castor was on the stand all day Tuesday giving details about his decision not to prosecute Bill Cosby for alleged sexual assault in 2004. Among the reasons he gave today were: that the accuser, Andrea Constand, did not report the incident for one year; there was no forensic evidence of drugs or Cosby's DNA; there were inconsistencies in the statements she made over time to law enforcement; she continued to have contact with Cosby, sometimes in person, between the incident and reporting it to police; and she contacted a civil attorney before reporting the incident to the police.
"I think Andrea Constand was inappropriately touched by Mr. Cosby. I analyzed it in terms of what I could prove, not what I thought," Castor said during cross examination by the prosecutor. Castor goes onto to say that Constand's behavior after the alleged molestation and her inconsistencies ruined her credibility.
"It does not mean she wasn't telling the truth. It means I did not believe 12 jurors would find her credible. I did not think she could withstand cross examination," he said.
Castor said that as Montgomery County District Attorney, it was his decision not to prosecute Cosby; that it was not an "agreement." He did not believe the case could be proven and insisted that his decision meant Cosby could never be prosecuted for Constand's allegation. Cosby's attorney, Walter Phillips, was aware that, with the decision not to prosecute, Cosby could no longer assert his 5th Amendment right not to self-incriminate. At one point, Castor said that "Cosby had to be nuts to say those things" in the civil deposition if he thought he could be prosecuted.
The hearing continues Wednesday. Judge Steven T. O'Neill noted Tuesday afternoon that he expects to make a decision at the end the hearing.
[Screengrab via NBC 10 in Philly]
Have a tip we should know? [email protected]