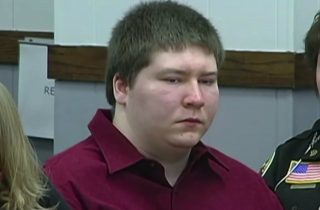 Over the summer, a judge threw out the conviction of Brendan Dassey, who had been serving a prison sentence for murder in the death of Teresa Halbach. The case was the subject of the hit NetFlix series Making a Murderer. The court ruled that Dassey's confession was coerced by law enforcement officials, and that he was to be released unless prosecutors decided to retry the case. They were given 90 days to make that decision, but the state of Wisconsin appealed. On Monday, a judge ruled that Dassey must go free.
In the court's order, Magistrate Judge William Duffin wrote, "There is no indication that [Dassey] has the inclination (much less the means) to flee or will otherwise fail to appear as may be legally required."
Given that the case is not over, the court is imposing a number of restrictions on Dassey's release, "because proceedings regarding Dassey have not yet concluded and Dassey may be required to serve the remainder of his sentence or otherwise appear for legal proceedings." The court ordered that Dassey be supervised by the United States Probation Office for the Eastern District of Wisconsin. Dassey also has to obey the following conditions, or risk being incarcerated again:
He cannot violate any federal, state, or local laws
He cannot "possess a firearm, destructive device, or other dangerous weapon"
He cannot possess or use any controlled substance without a prescription, and is subject to drug testing, should the Probation Office decide it's appropriate
He cannot obtain a passport
He has to make all court appearances
He "shall  comply with any applicable law regarding sex offender registration"
He must report to the Probation Office as they direct him
Dassey must notify the Probation Office of his intended residence no later than this Tuesday, and the address must be approved; Dassey must also get approval before changing residences
He cannot travel outside of the jurisdiction of the Eastern District of Wisconsin, or to the Northern District of Illinois ("to the extent necessary to consult with legal counsel"). Dassey must get permission from the court before he can go anywhere else.
Additionally, Dassey is not permitted to have any contact with Steven Avery, who was also convicted for Halbach's murder, or with Halbach's family.
While the case is still ongoing, Judge Duffin wrote that it is unlikely that the state will win their appeal, which factored into his decision to let Dassey go.
In a statement, Attorney General Brad Schimel said that he intends to file an emergency motion with Seventh U.S. Circuit Court of Appeals to put Dassey's release on hold.
This article has been updated to reflect the Attorney General's intent to block Dassey's release.
Dassey Release Pending Appeal by LawNewz on Scribd
Have a tip we should know? [email protected]