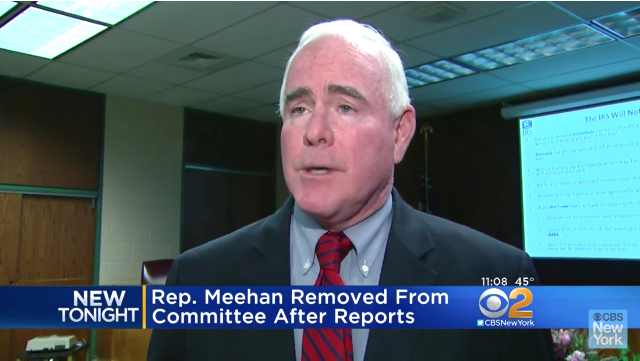 Embattled Representative Patrick Meehan (R-PA) denies he sexually harassed a former female aide–after settling a sexual harassment complaint with that same aide last year.
In comments to the Philadelphia Inquirer, Meehan said he came to view the aide with "affection" and saw her as "a soul mate" after they ate ice cream together one night.
Meehan also denied that he sought out a romantic relationship with the younger woman, but did admit to reacting with "selfish" jealousy once he found out she had entered into a serious romantic relationship with another man.
After news of his aide's personal romantic development became Meehan's business, the congressman allegedly confronted her with his feelings in person–and in print–by proffering a handwritten love letter. The aide reportedly rejected Meehan's entreaties. After some time passed with his love unrequited and unreciprocated, Meehan apparently grew ever more hostile toward his longtime aide–ultimately resulting in what she claimed was sexual harassment.
Meehan's romantic and personnel foibles became fodder for public comment and consumption after a Saturday report in The New York Times revealed the three-term congressman had used thousands of dollars in public funds to settle the former aide's sexual harassment claim filed against him after she left his office last year.
Once confronted with the news, Meehan requested the former aide to waive their settlement's confidentiality agreement. The former aide's attorney, Alexis Ronickher, thoroughly dismissed that request, saying it was "a desperate effort to preserve his career," and noting that Meehan had demanded the confidentiality agreement in the first place.
For his part, Meehan continues to deny the sexual harassment allegations and says he never intended to cheat on his wife, but did admit to quasi-abusive behavior during his Inquirer interview. He said, "Sometimes I have the tendency to lash out to others on the staff…and you go hardest on the ones that you care the most about."
The aide in question is decades younger than Meehan, who is 62-years-old and married with three children. Meehan currently intends on running for re-election in 2018.
[image via screengrab/CBS New York 2]
Have a tip we should know? [email protected]