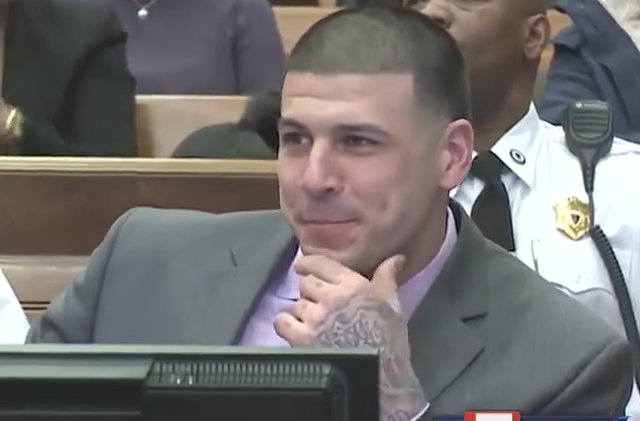 The Supreme Judicial Court of Massachusetts has ruled that Aaron Hernandez's 2015 murder conviction will not be reinstated.
The former Patriots tight end was found guilty of murder in the first degree over the 2013 death of Odin Lloyd. That conviction was overturned after Hernandez killed himself while incarcerated at the Souza-Baranowski Correctional Center in Lancaster, Massachusetts.
Hernandez's suicide came only two days after he was acquitted of a separate slate of murders alleged to have occurred in Boston in 2012.
A relatively obscure legal principle undergirds the perhaps confusing turn of events in the Aaron Hernandez saga.
He was convicted in 2015, but had appealed his conviction. Under the legal principle known in Latin–and used by attorneys out of sheer force of habit and tradition–as abatement ab initio, or "from the beginning," a conviction is not deemed final until all appeals have been exhausted. Once Hernandez took his own life, there was no possibility of exhausting said appeals. Thus, his conviction was tossed out.
The State of Massachusetts, via the Bristol County District Attorney, petitioned the Supreme Judicial Court of Massachusetts to reinstate that petition. A direct appeal petition to the state's highest court is rarely granted, however, and the court denied that petition this morning.
In his order, Supreme Judicial Court Justice David Lowy wrote:
The petition is DENIED. The power under G. L. c. 211, § 3 is exercised only in exceptional circumstances and is not a substitute for normal appellate review. Planned Parenthood League v. Operation Rescue, 406 Mass. 701 (1990). The Commonwealth may appeal Judge Garsh's order in the normal course. Understanding that the normal period for filing a notice of appeal in the Superior Court has passed, the Commonwealth is granted leave to file their notice of appeal late, if filed no later than November 17, 2017. Should the case be appealed, this Court will give consideration to an application for direct appellate review.
[image via screengrab]
Follow Colin Kalmbacher on Twitter: @colinkalmbacher
Have a tip we should know? [email protected]