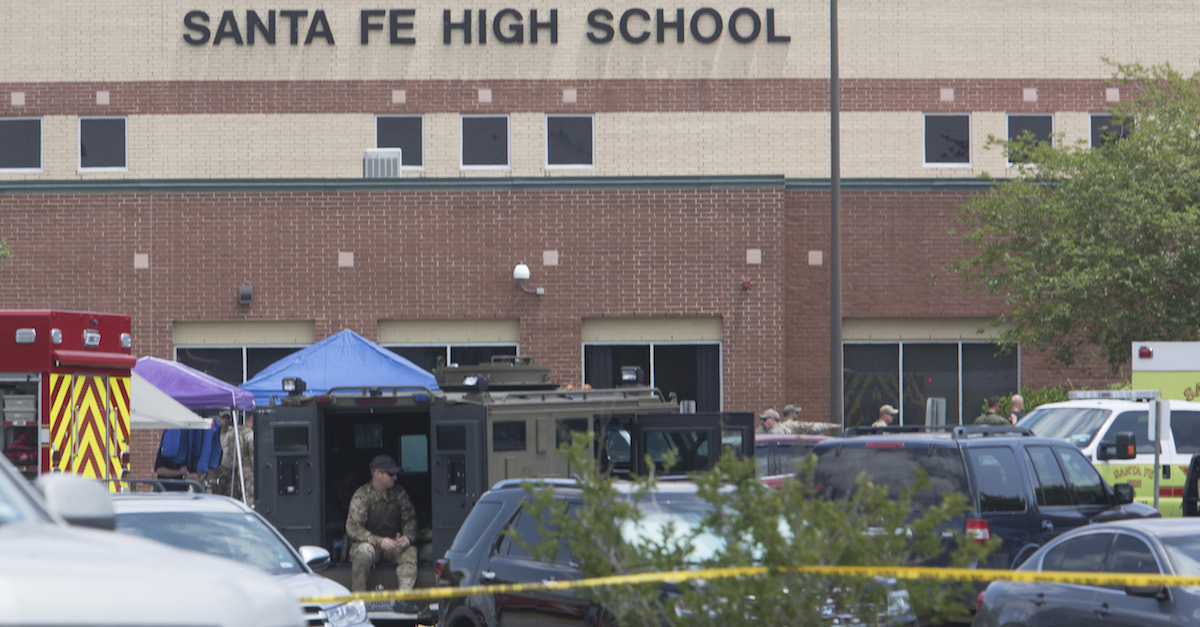 New information continues to come out of Texas as authorities work the crime scene at Santa Fe High School, where 10 were killed Friday morning. Federal law enforcement have confirmed that the suspect is 17-year-old Dimitrios Pagourtzis, pictured below.
Pagourtzis reportedly possessed a shotgun and pistol. Texas Gov. Greg Abbott (R) confirmed that a .38 revolver and shotgun were recovered from the scene. The suspect is 17, so it was already known that it was not legal for him in the state of Texas to buy or own guns.
They reportedly belonged to his father. Other news sources said the shooter also had an "assault-style rifle."
A student said the shooter yelled "surprise!" before shooting up the classroom.
There appeared to be warning signs about Pagourtzis, including: an interest in animal torture, a trench coat with USSR and Nazi medals on it, and a t-shirt that said"Born to Kill."
Another student said he "always walked around in a trench coat." Perhaps this is the one to which Zach M. was referring.
17-year-old Dustin Severin told KPRC-TV he saw Pagourtzis wearing the trench coat before the shooting and that it is his "usual outfit."
"He wears a trench coat every day, and it's like 90 degrees out here," Severin said.
Beyond the suspect's social media footprint and what fellow students observed, there weren't warning signs in terms of criminal history, Gov. Abbott said.
Father Stelios Sitaras, a priest at Assumption of the Virgin Mary Greek Orthodox Church, told the Associated Press the shooter as "a quiet boy."
"You would never think he would do anything like this," he said.
KHOU reported that at least 8 were killed and Harris County Sheriff Ed Gonzalez said the number of dead was between 8 and 10.
Gov. Abbott later confirmed that there were 10 killed and 10 wounded.
The scene was described as a "bloody mess" and authorities said Pagourtzis also had pipe bombs.
"Officers inside encountered a bloody mess in the school," a source told the Houston Chronicle. "Evidently this guy threw pipe bombs all in there. We don't know if any of them went off.
President Donald Trump responded to the news Friday morning, saying, "This has been going on too long in our country, too many years."
Parkland students who have been visible gun control activists since the Valentine's Day shooting at Marjory Stoneman Douglas High School (MSD) also reacted to the latest mass shooting.
Another student from MSD, Kyle Kashuv, who has been vocal in his support of gun rights had a different response.
[Images via DANIEL KRAMER/AFP/Getty Images]
Have a tip we should know? [email protected]