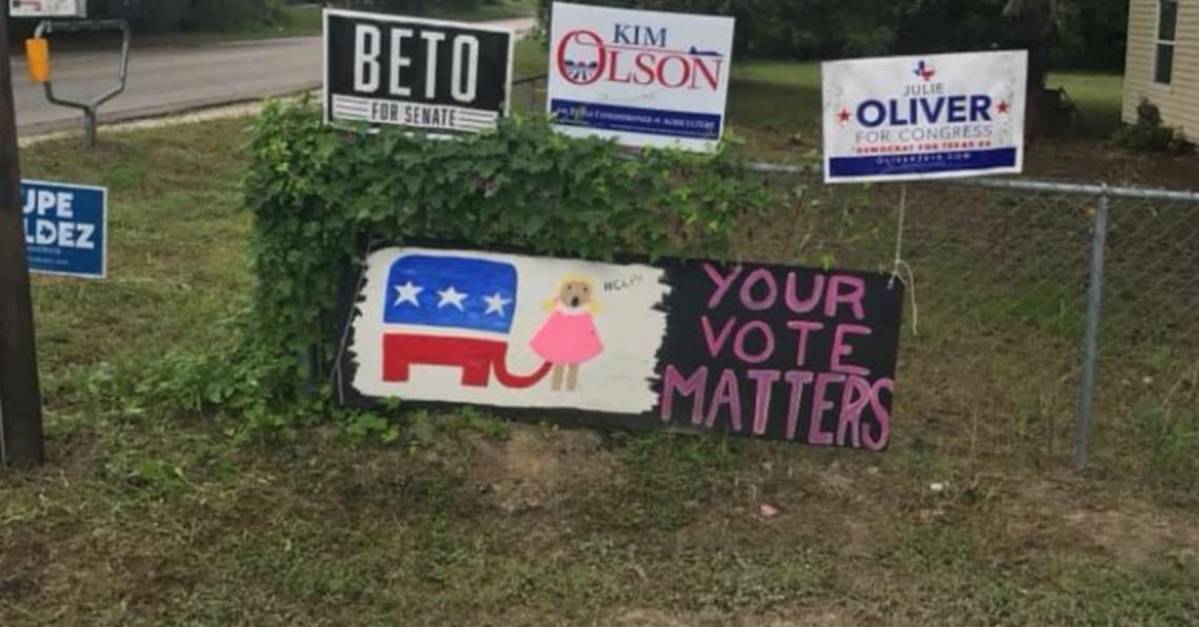 Marion Stanford, whose anti-Republican yard sign was confiscated by local cops in small town Texas, has her sights set on what she sees as a bigger problem now: the continued career of Senator Susan Collins (R-Maine).
Stanford's combative spirit is buoyed by a small victory as that larger fight looms ahead; she recently got her sign back from the local Hamilton Police Department cops who threatened to her arrest her.
The sign in question is homemade and doesn't offer support for–or opposition to–any particular candidate. Rather, the sign–which is hand-painted in red, white and blue–and features an elephant with its trunk up a woman's skirt. The woman in the painting has a word bubble with the word "Help." The sign is captioned, "Your vote matters."
According to the Dallas Morning News, Stanford plans to auction her sign on eBay and then use the proceeds in the battle against Collins' 2020 re-election bid. Why the Lone Star State focus on the formerly moderate senior senator from Maine? It's all because of Brett Kavanaugh.
Stanford notes that the accused sexual assaulter and recently-minted Supreme Court justice would not be sitting on the nation's high court without Collins' vote. In comments to the Morning News, Stanford said:
[My sign] has to be used for something positive. I believe Brett Kavanaugh is now on the Supreme Court because of Susan Collins, and I want to unseat her.
As part of her efforts, Stanford says she wants to work with the grassroots Maine People's Alliance on the planned eBay auction.
The Pine Tree State group's co-director, Amy Halsted, recently tore into Collins for her pro-Kavanaugh vote. She said, "This vote is a complete betrayal of Maine voters, of the women who have called her offices, and written letters and organized phone banks and attended rallies and told their very deeply painful stories."
Attention was originally focused on the hand-painted electioneering effort because Republican Texas Agricultural Commissioner Sid Miller singled out Stanford's sign in an inaccurate post on Facebook.
In that post, Miller made an unsubstantiated allegation that the sign was an attempt to depict one of Kavanaugh's daughters.
"This is in Hamilton, Texas and is supposed to be Judge Kavanaugh's young daughter. Notice my opponent's sign in the background," Miller wrote. "The Democrat sleaze knows NO bounds!"
In a discussion with Miller, Stanford clarified that the woman is simply supposed to be a depiction of the generic figure on women's restrooms signage. During that same Facebook messenger discussion, Stanford demanded to know why Miller had mis-characterized her sign.
Miller ignored those comments and then blocked Stanford on Facebook.
But now the sign is back in her possession.
After an onslaught of negative national press, local officials begrudgingly returned the sign to Stanford on Tuesday.
Hamilton City Administrator Pete Kampfer said, "Admittedly, we live in uneasy, challenging times. I'm proud of leading the city and of all the professional staff we have that are here to protect the welfare of the community. We're doing the best we can."
Stanford cited the interest of several people who have asked to license the sign for use on T-shirts, stickers and other anti-GOP merchandise. She also credits Washington Post cartoonist Ann Telnaes, whose original political cartoon was an inspiration for the now-famous yard sign. The two artists are now friends.
In additional comments to the Morning News, Stanford said:
Based on the responses I've gotten, I think [my sign] has inspired people to go vote. But my sign didn't start anything. It just kept the momentum going that was started by people like Anita Hill, Bill Cosby's accusers, Dr. Ford and the women who protested Kavanaugh.
[image via screengrab/Facebook]
Follow Colin Kalmbacher on Twitter: @colinkalmbacher
Have a tip we should know? [email protected]