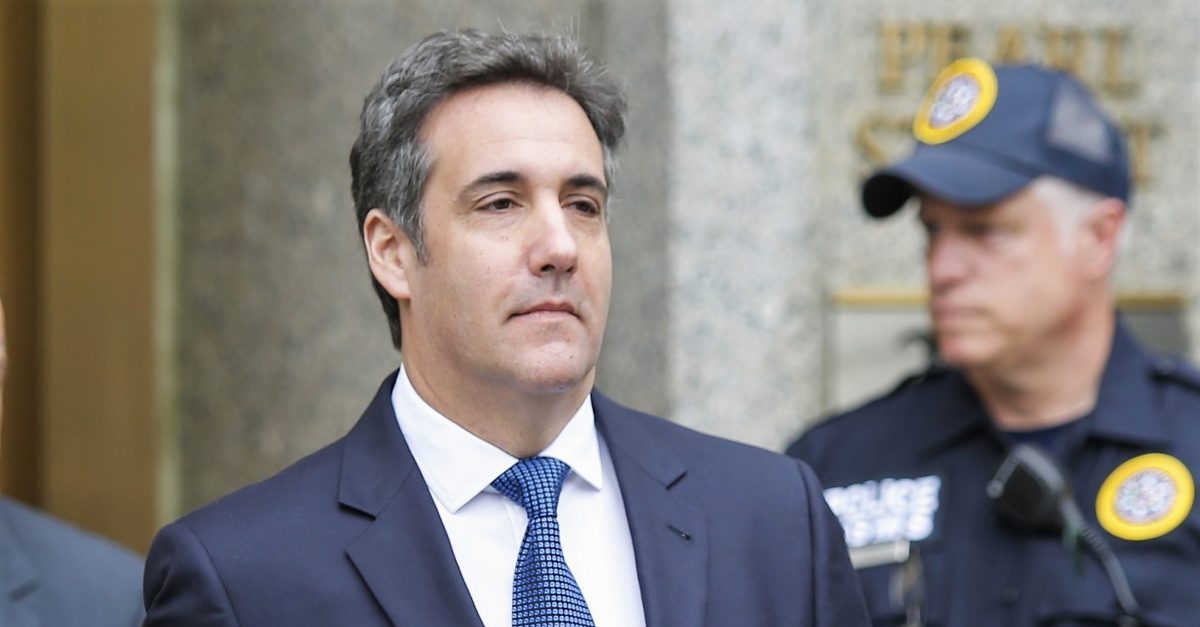 The relationship between President Donald Trump and his former attorney Michael Cohen continues to devolve. One new interview has Dems chiding POTUS about possible witness tampering.
News that Cohen will testify before the House Oversight Commmittee on Feb. 7 got Trump to take shots at his former "fixer."
"[Cohen] should give information maybe on his father-in-law, because that's the one that people want to look at," Trump said Saturday in an interview with Fox News host Jeanine Pirro. "Because where does that money — that's the money in the family. And I guess he didn't want to talk about his father-in-law – he's trying to get his sentence reduced. So it's pretty sad. It's weak and it's very sad to watch a thing like that."
Trump admitted during the interview that he didn't know the father-in-law's name, but it's Fima Shusterman. A Chicago Sun-Times report showed that he loaned at least $20 million to a cab mogul mentioned in search warrants used by the FBI in raiding Cohen's home, office, and hotel room.
The Trump statement got top Dems to cry foul.
JUST IN: Dems warm that Trump's attack on Cohen's father in law appears to be possible witness intimidation / obstruction >> pic.twitter.com/W21c0jdlaW

— Kyle Cheney (@kyledcheney) January 13, 2019
"The integrity of our process to serve as an independent check on the Executive Branch must be respected by everyone, including the President," said a joint statement from Oversight Committee chairman Rep. Elijah E. Cummings (D-Maryland, 7th District), Intelligence chairman Rep. Adam Schiff (D-California, 28th District), and judiciary chairman Rep. Jerrold Nadler (D-New York, 10th District). "Our nation's laws prohibit efforts to discourage, intimidate, or otherwise pressure a witness not to provide testimony to Congress. The President should make no statement or take any action to obstruct Congress' independent oversight and investigative efforts, including by seeking to discourage any witness from testifying in response to a duly authorized request from Congress."
We reached out to Professor Ciara Torres-Spelliscy, a campaign finance law expert at Stetson University College of Law, for her take on the matter.
"Given that Michael Cohen has already implicated the president in two campaign finance crimes, the president is likely nervous about what Mr. Cohen might testify about in front of Congress," she wrote Law&Crime in an email. "But that nervousness is no excuse for trying to intimidate a potential Congressional witness like Mr. Cohen."
The upcoming testimony threatens to cast some pretty grim optics for the president. In pleading guilty to financial crimes and lying to congressional investigators, Cohen implicated Trump in campaign finance violations in the cover up of the POTUS' alleged affairs with porn star Stormy Daniels and Playboy model Karen McDougal. He was sentenced to three years in prison, and is scheduled to begin his term March 6.
Trump is attempting to downplay his former attorney's statements. He claimed Cohen implicated him just to get a reduced sentence. Pirro, a vocal booster of the president, called Cohen an "already-proven" liar. The office of Special Counsel Robert Mueller gave him some credit in their sentencing recommendation, and said he gave them credible information from the second interview, on-ward.
Note: Updated with a quote from Torres-Spelliscy.
[Image via Eduardo Munoz Alvarez/Getty Images]
Have a tip we should know? [email protected]