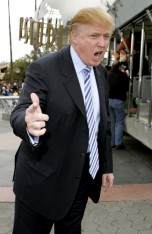 Comments Donald Trump made in an interview with the French conservative weekly Valeurs Actuelles are receiving renewed focus amongst European news outlets in the aftermath of Trump's big victory in the New Hampshire primary where he captured a third of the total vote.
According to English language translations, the GOP frontrunner told the French news magazine that France's strict gun laws were partly to blame for the high death toll at Paris' Bataclan concert hall. He also referred to that concert hall attack as an "open bar" slaughter, similar to "shooting pigeons."
Trump, a concealed carry permit holder, said, "I always have my gun with me. I can tell you that if I had been at the Bataclan or in one of the cafes, I would've opened fire. I might have died, but I would have drawn [my gun]."
"Do you really think that if there had been a few armed and trained people in the audience, things would have turned out that way?" Trump continued. "I don't think so. They would have killed the terrorists. It's good sense."
These comments are similar to remarks Trump made in the immediate aftermath of the attacks in November.
[h/t Vice News; image via shutterstock]
Have a tip we should know? [email protected]