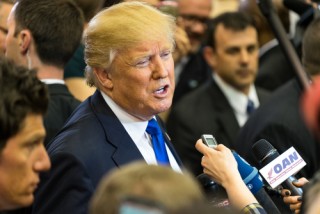 The lawsuits just don't stop. This week, a group out of Chicago filed a motion to certify a class action lawsuit against the official campaign committee of Donald J. Trump for President. In the complaint obtained by LawNewz.com, they allege the campaign sent out unsolicited text messages without prior consent in violation of the "Telephone Consumer Protection Act." Congress passed the act in 1991, and it limits the use of both robocalls and automatic text messages without consent.
Here is one of the text messages: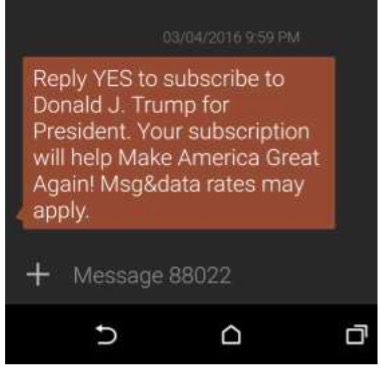 The original lawsuit, which was filed by Joshua Thorne in April, asked for monetary damages and for the Trump campaign to "cease sending text messages to wireless phones, through the use of an automatic telephone dialing system without prior express consent." Another Illinois resident David Roberts filed a similar claim. In June, they filed a motion to consolidate the cases. And, on Thursday, they asked federal Judge John Lee to certify the case as a class action.
"The case involves common fact questions about Defendant's SMS text campaign and common legal questions under the Telephone Consumer Protection Act, 47 U.S.C. § 227 ("TCPA")," the complaint read.
Attorneys for Donald Trump's campaign moved to get the case dismissed. They contend that the complaint failed to make properly supported facts that the text messages were sent using an automatic telephone dialing system in violation of federal law. They also make a legal claim that the federal law violates the First Amendment because it limits political speech. LawNewz.com reached out to both the campaign and the attorneys, but have not heard back. We will update here accordingly.
[image via shutterstock]
Have a tip we should know? [email protected]
Rachel Stockman - President / On Air Host