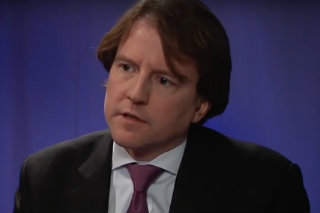 President Elect Donald Trump's transition team announced Friday that Donald McGahn, who has worked as his attorney on the campaign and now the transition, will be  the new White House General Counsel. McGahn had previously served as the commissioner and chairman of the Federal Election Commission and is a partner at the Jones Day law firm.
"Don has a brilliant legal mind, excellent character and a deep understanding of constitutional law," Trump said in a statement.  "He will play a critical role in our administration, and I am grateful that he is willing to serve our country at such a high-level capacity." McGahn, who specialized in representing elected officials and other politicians in private practice, added that "I am honored to continue advising President-elect Trump in the Trump-Pence Administration. President-elect Trump is a bold leader committed to draining the swamp in Washington and restoring economic prosperity and security. I look forward to serving the American public in this role."
A few months after resigning from the FEC, McGahn, who was strongly against heavy regulation of elections, told the Center For Public Integrity that "I didn't need this job. I came here to work, to change the way the place thinks. I was proven right time and time again by court cases." That last part refers to, in large part, the Citizens United v. FEC Supreme Court decision. In the Public Integrity profile, one election lawyer even goes as far as to call McGahn "perhaps the most consequential member of the FEC in its history." A 2008 Wall Street Journal headline described McGahn as "March[ing] to His Own Tune," with the article adding that "He has spent much of his career battling the agency in defense of Republican lawmakers accused of breaking the rules."
To get an idea for the new White House General Counsel's personality, WSJ described how, whilr attending a 2008 Barack Obama rally as FEC Chairman, McGahn "stood and applauded theatrically" when Al Gore ask if those in attendance wanted four more years of Republicans. "Sorry, I thought that was an applause line," he quipped.
[Photo: Cato Institute YouTube screen grab]
Have a tip we should know? [email protected]