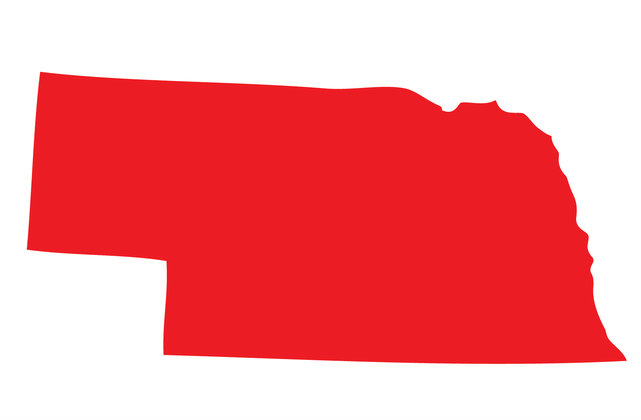 If Republican lawmakers get their way, Nebraska will change to a winner-take-all system in future presidential elections. New legislation in the state's unicameral legislature would end the status quo, in which votes are handed out by proportion.
Here's the relevant text from Legislative Bill 25. Note the crossed-out part:
Each presidential elector shall execute the following pledge: As a presidential elector duly selected (or appointed) for this position, I agree to serve and to mark my ballots for President and Vice President for the presidential and vice-presidential candidates who received the highest number of votes in the state if I am an at-large presidential elector or the highest number of votes in my congressional district if I am a congressional district presidential elector.
That means no matter what, the statewide winner of the 2020 election would get all five of Nebraska's electoral college votes. This actually isn't the case as things stand. Three votes are currently tied to the three congressional districts, so whoever gets more ballots in those areas gets those votes. The state-wide winner of the popular vote receives the two remaining electors.
Every state in the nation gets electoral votes equal to a sum: their number of congressional districts, and the number two (their number of senators). Maine is the only other one with a proportional allocation system.
The Government, Military and Veterans Affairs Committee advanced the legislation to the floor last Tuesday, according to the Omaha World-Herald. State Sen. John Murante (R-Gretna), the sponsor, told the outlet he would attach it to another bill. Sen. Justin Wayne (D-Omaha) filed a motion to postpone it, and that's the last action taken on it as of this Tuesday morning. The GOP controls the legislature, but similar attempts last year narrowly failed because of a Democratic filibuster.
Nebraska dropped the winner-take-all system in 1991.
While this bill likely won't transform the nation's future, little advantages matter in today's tense political climate. Changing to a winner-takes-all system lets Republicans establish total local dominance in presidential elections. After all, Dems command presence in the Omaha district. That's how Barack Obama took one Nebraska electoral vote in 2008. You have to go back to Lyndon B. Johnson's 1964 presidential campaign to find a Democratic candidate who took Nebraska's five electoral votes (or any all, for that matter). Though Obama didn't repeat his feat in 2012, President Donald Trump only won that area by about 2 percent, according to a review by 270 to win. 
[Image via Paul Stringer and Shutterstock]
Have a tip we should know? [email protected]